Les Thatcher And JBL Lament Difficulty Of Training Modern Pro Wrestlers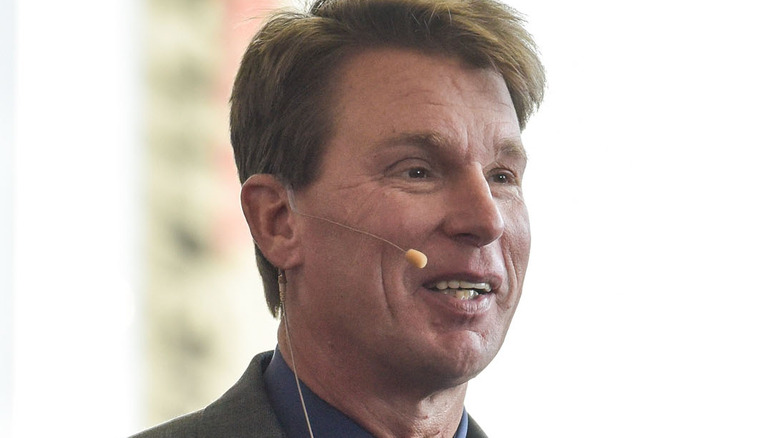 Grant Lamos Iv/Getty Images
Last Thursday on Gerald Brisco and John "Bradshaw" Layfield's "Stories with Brisco and Bradshaw" podcast, their guest was legendary wrestler turned jack of all trades — to the point of even editing WWE's first magazine — Les Thatcher, best-known for founding the Heartland Wrestling Association and its associated wrestling school. When discussing the process of teaching his students, Thatcher had some grievances to air, saying students have it too easy.
"I think the hard part is to be a teacher today," Thatcher explained, noting that young wrestlers have a tendency to think they know everything, and even have Hollywood aspirations, even at one point dealing with the famous "Naked Cowboy" of Times Square, who showed up at Thatcher's school admitting he wasn't a wrestling fan and hoping to use it as a launching pad to Hollywood.
"Of course, the three of us know that it's a business unto itself," Thatcher said, "there's nothing like it, and to learn to be a 'worker' is a lot harder than just taking bumps."
Layfield agreed, noting the numerous styles he had to adapt to when traveling to various promotions, to which Thatcher agreed wholeheartedly. The legendary trainer also addressed WWE's penchant for recruiting athletes as opposed to independent wrestlers.
"You can put 100 great athletes in a gym, we're not gonna turn out 100 great wrestlers," Thatcher explained, "we may not turn out three or four out of that 100 people."
Thatcher and Brisco both bemoaned WWE's fickle nature when it comes to recruiting, with Brisco noting that he doesn't try to recruit NCAA athletes anymore, and Thatcher remembering a recruit he was high on, only for them to be released within 24 hours. Layfield added that he felt that wrestling hopefuls with that attitude don't seem to understand how hard the likes of The Rock and John Cena worked as wrestlers before parlaying their success into careers in Hollywood.