Eric Bischoff Believes Tony Khan Wants To Be In A Particular Conversation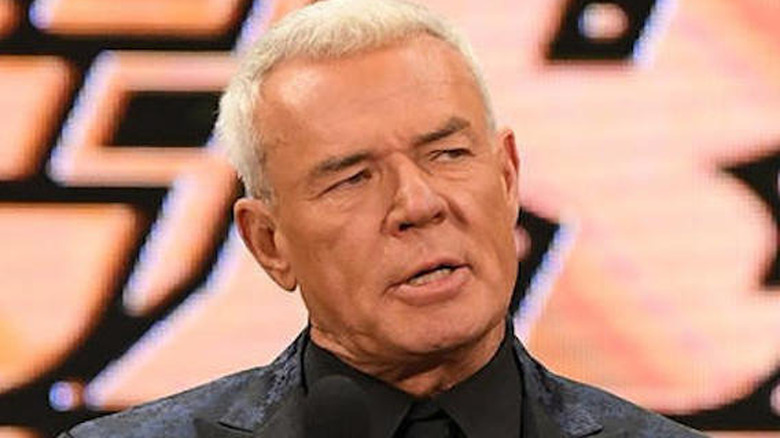 WWE
In order to be in the conversation with WWE's Vince McMahon and WCW's Eric Bischoff in terms of high-level success in the wrestling business as a promoter, AEW's Tony Khan would have to do things differently according to "Easy E." During the latest "83 Weeks," Bischoff detailed why he believes entering that conversation is one of Khan's main goals, and in having that goal, he's done so "at the expense of what it takes to get you to that level of success." Bischoff believes Khan is affecting his booking by following this mentality, and also thinks part of that has to do with the lack of respect Bischoff has shown Khan's way when discussing AEW.
"I think Tony reacts more out of emotion," Bischoff said. "I think part of Tony's reactions is more emotional reactions based on the fact that he's not getting the kind of respect from me. I know this as a fact, we have a mutual friend who got a text that basically said so and I've heard it from more than one person. ... My criticisms are not meant to be towards Tony the person, I have some admiration for Tony the person, particularly as of late. I think Tony the person, is a really good person. I think I disagree with his approach to the business."
The history between Khan and Bischoff is long-standing, dating back to mid-2022, with several shots thrown from both sides, including the involvement of former AEW World Champion CM Punk. When describing the key reason why he disagrees with Khan's approach to wrestling, Bischoff pinpointed Khan's striving to win "Dirt Sheet Booker of the Year," and developing a "creative strategy" based on reactions from the internet as things he wishes he'd stop doing. "You're not driven by the internet, you're driven by the television audience," Bischoff said. "The success or failure of your company Tony is not how well the dirt sheet universe and the internet wrestling community react to you, it's how well the general audience, who may not even participate in that stuff, react to you."
If you use any quotes from this article, please credit "83 Weeks" with a H/T to Wrestling Inc. for the transcription.