AEW Star Recalls Vince McMahon Holding Back Cesaro's Success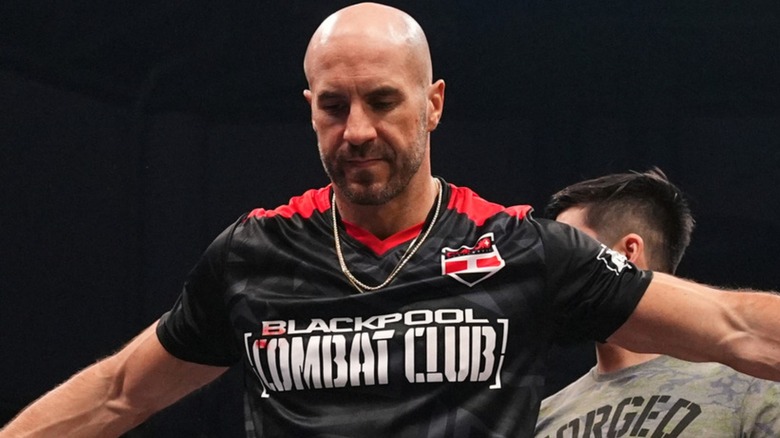 AEW
Over the years, AEW superstar Claudio Castagnoli has garnered a reputation among fans as one of the better in-ring performers in the business. However, there is a prevailing feeling among fans — and many of his fellow wrestlers — that he never quite reached the level of success that he was truly destined for.
Currently celebrating his second reign as Ring of Honor World Champion, Castagnoli was never able to accomplish the same distinction in WWE. His former tag team partner Jake Hager — formally known as Jack Swagger — spoke about the failure of Castagnoli, known then in WWE as Cesaro, to reach the main event scene on the "Story Time with Dutch Mantell" podcast. 
Mantell, in the WWE persona of Zeb Colter, served as the manager for the two Superstars when they teamed as "The Real Americans, but, as the group slowly grew popular, plans came in to split the team. "We were there with Triple H, and he was explaining to us what was happening. I didn't say anything and I wish I would have," Hager described. "They wanted [him] to be a big star for them, even though Vince constantly put his thumb on Claudio ... like taking away the Giant Swing."
Castagnoli would win the Andre the Giant Memorial Battle Royal at WrestleMania XXX, leaving his partner and manager to align with Paul Heyman the next night on "WWE Raw." Mantell offered details as to why. "They told me they wanted to put him with Heyman to put some heat on him, and four weeks later, they dropped it. I think putting him with Heyman hurt him, and now he's back on his own again, and he's back in the same spot where he started."