Seth Rollins Makes Bold Claim About Toughness Of Pro Wrestlers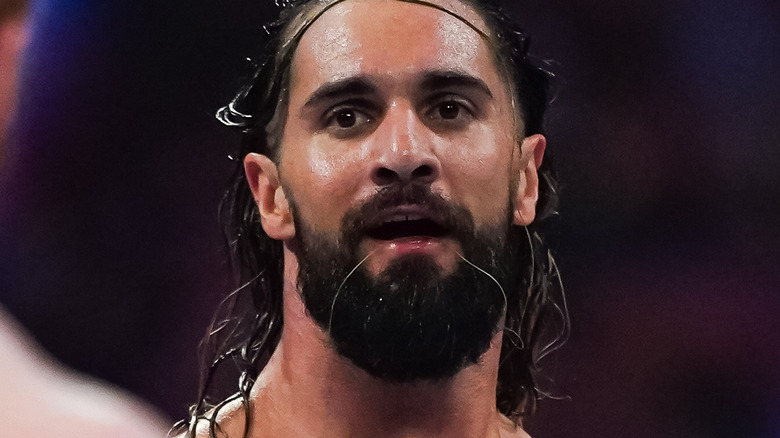 Alex Bierens De Haan/Getty Images
Top WWE Superstar Seth "Freakin" Rollins has never been afraid to speak his mind, and that held true in a new interview with Sports Illustrated. When asked who is tougher, pro wrestlers or NFL players, Rollins was adamant that it's the former.
"Oh, professional wrestlers, no doubt about it," Rollins said at one of his media appearances at the Super Bowl in Glendale, Arizona. "Do you need a reason why? I mean, we do this year around. We get no breaks, baby. We're doing it all the time. There is no season, no off-season, no recoup, no rehab, we've got none of that."
Rollins added that NFL players also have access to more resources in terms of physical maintenance. "We don't got the trainers, we don't have the staff the NFL's got," he said.
Both pro football and sports entertainment obviously come with their fair share of risks. Knowledge of CTE (chronic traumatic encephalopathy) has grown and has shown that football players and pro wrestlers are more susceptible to the brain condition spawned from repeated head injuries. In an attempt to prevent CTE from affecting more football players, Riddell released a unique helmet last year called the Axiom helmet, which uses advanced fitting mechanisms and technology to make it more flexible upon impact. WWE made a change in 2010 when it banned direct chair shots to the head.
As for Rollins, he has his sights set on taking the WWE United States Championship from Austin Theory. "The Visionary" will be one of the six men competing in the Elimination Chamber match on February 18, along with Theory, Montez Ford, Bronson Reed, Johnny Gargano, and Damian Priest.