WWE Hall Of Famer Comments On 'Sweetheart' Brock Lesnar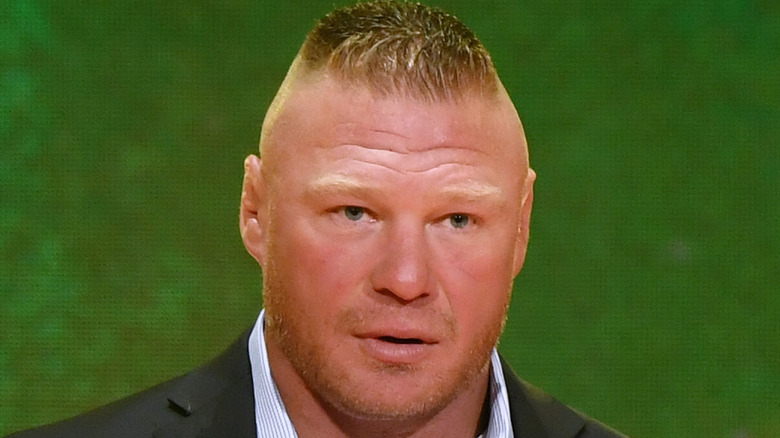 Ethan Miller/Getty Images
Teddy Long has been a respected figure in the realm of professional wrestling since his debut back in 1985. He was working as a referee and manager for WWE during the time Brock Lesnar –- an undeniable legend of combat sports –- made his debut in the company. On a new installment of "The Wrestling Time Machine" by Sportskeeda, Long revealed that despite his size and ability to crush essentially anyone he wants, Lesnar is actually a "sweetheart" backstage. He also found it amusing that Lesnar genuinely loved Jimmy John's, one of his sponsors for UFC. "You know, I think he might have had something to do with the Jimmy John's. I'm not sure, but he would always talk to me about Jimmy John's, about getting a sandwich there."
When you think of Brock Lesnar, it's hard not to instantly see Paul Heyman standing in as his mouthpiece. Obviously, with The Bloodline as his main focus, Heyman and Lesnar aren't paired up like they once were, but Long does understand why they were together in the first place. "It's not so much as that Brock needs the mouthpiece, you know, Brock can basically talk by himself. What Brock needs is the insight, the knowledge, to know-when-to-do-this, to know-when-to-do-that. Paul Heyman has been around this business for a long, long time and Paul Heyman is certainly ... a really smart guy."
Looking ahead to Lesnar's eventual retirement, Long and the hosts of the show are intrigued by the idea of having current "NXT" Champion Bron Breakker come to the main roster to slay "The Beast." "Steiner's kid has got a great-looking body," Long notes. "That kid looks really good and he's a good worker. I've seen him work in the ring, so yeah, that's not a bad idea."
If you use any quotes from this article, please credit "The Wrestling Time Machine" by Sportskeeda with an H/T to Wrestling Inc. for the transcription.