Liv Morgan Is Happy To Have This WWE Star Back On The Road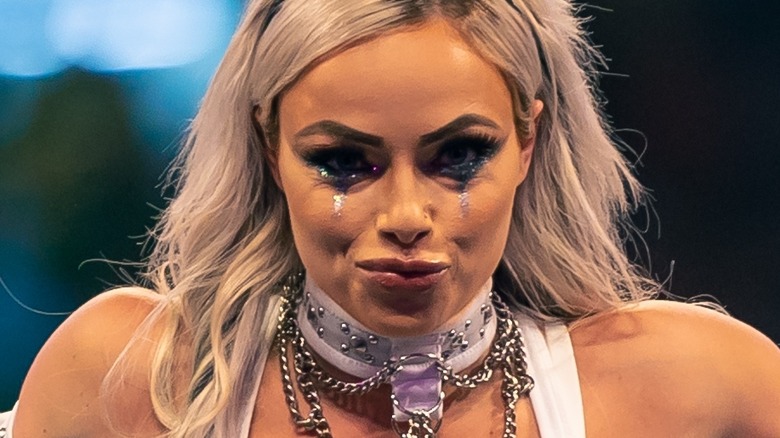 Arthur Cauty/Shutterstock
It's impressive witnessing how much a WWE superstar can change over the course of a few years, with two key examples being Liv Morgan and Sarah Logan (Valhalla). Back in November 2017, Logan, Morgan, and Ruby Soho (fka Ruby Riott) arrived on WWE's main roster as a collective force called "The Riott Squad." 
They were featured regularly on WWE but would unfortunately never find any major success before being disbanded as a trio in April 2020 when Logan was released from her contract due to company-wide budget cuts. Ruby was released in June 2021, leaving only Morgan in WWE until late last year when Logan reappeared as a mysterious Viking character named Valhalla.
Morgan commented on Logan's new gimmick and how she's excited for her former faction partner. "Yes, I mean, she's hella different now," Liv Morgan told "Out of Character with Ryan Satin." "Everything is different. I mean, presentation, just everything. She's harder now –- the baby, everything is different, but it's very cool. It's very, very cool. It feels like normal. It feels like nothing even happened, you know? Having her back, it just feels like she never left."
Logan is a diehard fan of Viking history among her peers, even going as far as having a Viking-themed wedding when she married fellow WWE Superstar, Erik.
"It's so awesome and it's so her, and she has so much knowledge about everything Viking and mystical, and like, I don't even know the right word. It's not woodsy, but, you know? She just has so much knowledge and it's just cool to see her doing something so different. It's just so cool to see her dive into something that's so different and thrive in it." 
An additional perk is getting to see Logan's young child traveling with them as he grows.