Tyrus Says His Name Is Bigger Now Than It Was In WWE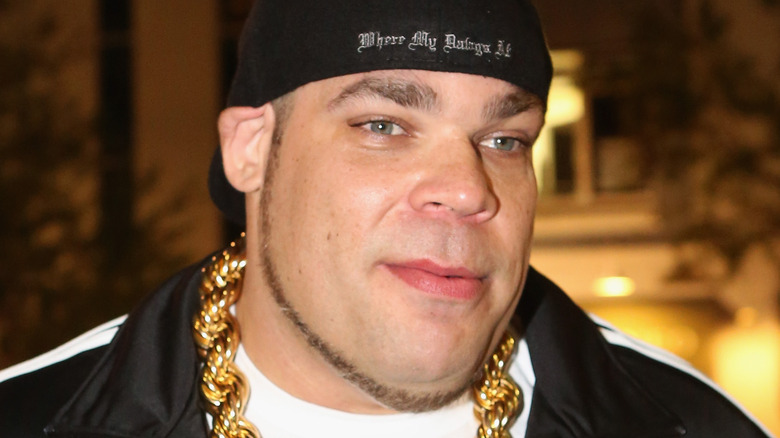 Aaron Davidson/Getty Images
As Brodus Clay in WWE, Tyrus experienced highs and lows in his career. He's well-known for his Funkasaurus gimmick, a dancing character who would bust a move during his matches. The character was initially well-pushed, embarking on a 21-match winning streak upon his introduction. Despite that, Clay was never in the main event picture, and was unable to win any championships during his tenure. But now Tyrus is the NWA World's Heavyweight Champion and headlining the Nuff Said pay-per-view for the NWA. In an interview with "The Ten Count", Tyrus talked about his journey after WWE.
"You know I went to Impact and reinvented myself. Tyrus was born. And I would argue Tyrus is a bigger name than Brodus Clay now," Tyrus said. He also touched on how he appeared at four Wrestlemanias, but never actually got to wrestle a match. While it's something he wished he could cross off his bucket list, he's at peace with it likely not happening. But yet it's also motivating him to do more in his current run in NWA.
"It's something [that] fuels me because now I am the main event in my own catchphrase pay-per-view against the guy that I have known since I first took my first steps in the ring in this business in Matt Cardona." Tyrus has used the catchphrase "nuff said" frequently on his social media and during his talk show on Fox Nation. As he mentioned, Tyrus is set to defend his title this Saturday at NWA Nuff Said against Matt Cardona.
If you use any quotes from this article, please credit "The Ten Count," with an H/T to Wrestling Inc. for the transcription.