John Cena Delivers Massive AA In Fast X Trailer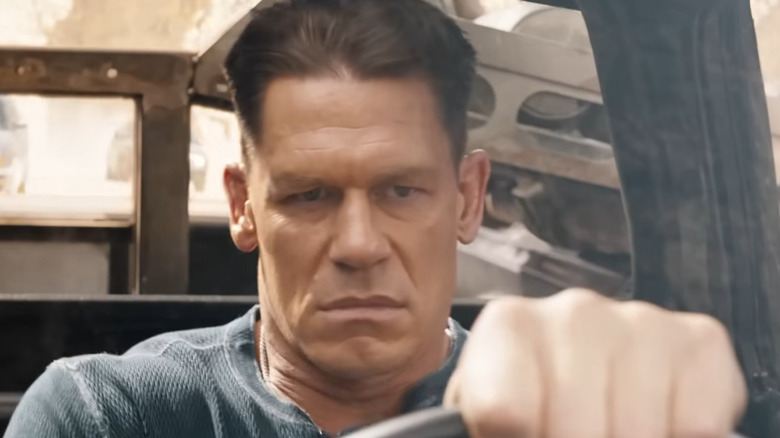 Universal Pictures
While John Cena's role at Wrestlemania 39 is still unclear, fans know for sure that they can catch him behind the wheel in the next "Fast & Furious" movie alongside Vin Diesel, Jason Momoa, Michelle Rodriguez, Helen Mirren, and the rest of the character Dominic Toretto's family. Reprising the role of Jakob Toretto from "F9," Cena's character has reconciled with his brother (Diesel) and will be a full-fledged member of the crew in "Fast X." Ahead of the movie's premiere, we got a new look at the Toretto family's middle child in the first trailer for the penultimate chapter of the franchise.
While a number of new trailers will drop on Sunday during the Super Bowl, the film from director Louis Leterrier got a head start and gave fans more reason to get hyped. In the trailer, we see Cena and the rest of the cast take on an old enemy in a new way that threatens to fatally fracture Dom's beloved family forever. 
As the trailer progresses, each member of the large ensemble gets their time to shine. The 16-time world champion delivers his signature Attitude Adjustment to an armed gunman through the floor of a house. Hey, if Roman Reigns could squeeze a spear into "Hobbs and Shaw," it only seems fair for other WWE Superstars in the "Fast Saga" to get their moves in as well.
Cena shines again later in the trailer as he drives a car equipped with rocket launchers. But will he survive the all-out war waged by Momoa's Dante Reyes and his unrelenting desire for revenge? We'll find out when "Fast X" races into theaters on May 18.