Tony Schiavone Names The Problem That Both WWE And AEW Have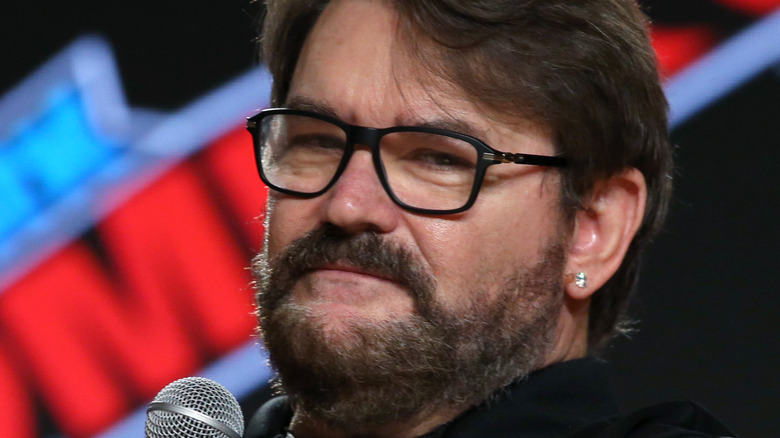 Bennett Raglin/Getty Images
Both WWE and AEW currently boast loaded rosters, and while that is often seen as a positive situation by some as the creative team has more options, AEW commentator Tony Schiavone thinks "that's always a problem" during the latest "What Happened When with Tony Schiavone" podcast. 
While the two promotions are able to feature a wide variety of wrestlers, it can also lead to unrest as many wrestlers are often left to sit in catering without any plans or clear direction. AEW typically shuffles through talent on a bi-weekly basis, while WWE also has many people they don't use which is why Schiavone thinks it is an industry-wide problem and has been the case since his days in WCW.
"WWE has it, we have it in AEW, we had it back in WCW ... guys that'll show up and just go to catering, they've nothing to do," he said. "I think it's a problem with sports teams, and I consider us a sports team. I bet you there are problems in the NFL, I bet there are players that think they should be playing and don't get to play."
Over the years wrestlers not being used on screen has led them to become frustrated. As an example, Brian Cage's wife took to social media to rant about her husband's opportunities last year. However, Schiavone believes "there's always drama in the locker room," which is something that often gets written about.
"For Dave [Meltzer] to write about it like, 'oh it's something new,' is bullsh*t," Schiavone said. "It goes on all the time, and therefore I don't think it's as big of an issue as Dave made it out to be."
If you use any quotes from this article, please credit "What Happened When with Tony Schiavone" with a H/T to Wrestling Inc. for the transcription.