Jake Roberts Recalls Vince McMahon Wanting To 'Persecute' Him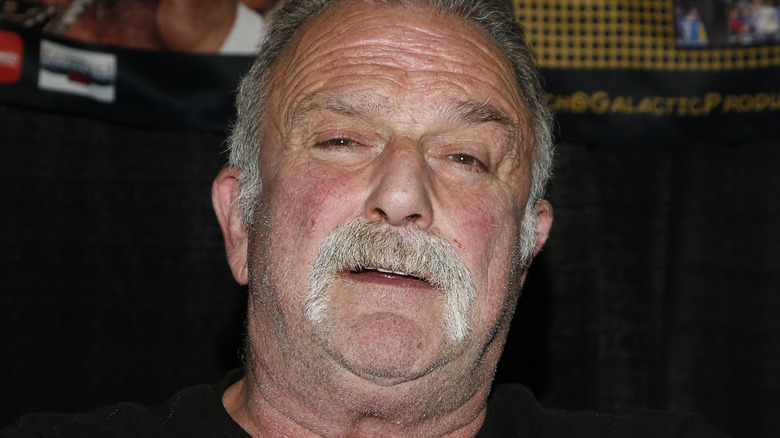 Gabe Ginsberg/Getty Images
Vince McMahon has had a history of bullying while running WWE, and Jake Roberts shares one of those incidents from 1996. After being on a downward spiral of substance abuse, Roberts happened to find sobriety and a newfound faith. It was around this same time when he got the phone call to return to WWE for the 1996 Royal Rumble and got a huge reaction from the crowd. 
Roberts mentioned previously on the Royal Rumble 1996 episode of "The Snake Pit" that he never thought it was possible for a WWE return as he and Vince McMahon ended his last run under tenuous terms. Despite the money-making reception Roberts received, he saw that bully in McMahon bubble back up.
"He holds a grudge. He's a grudge-holding son of a b*tch and he'll take his time to get ya too," Roberts told his "Snake Pit" co-host Marcus DeAngelo on the latest episode. "He'll start doing little things and then he'll graduate to maybe Jerry Lawler throwing whiskey in my face and making a joke out of that sh*t."
Roberts mentioned on the Royal Rumble 1996 episode that he knew being back on the road was going to affect his sobriety and it did. At SummerSlam, Lawler was instructed to dump a bottle of whiskey on Roberts who claimed it to be legitimate and it was The Undertaker who defended his faith and honor.
"It should have never been done," Roberts continued, saying Lawler didn't want to do the angle. "I mean, you're going to persecute me from being a Christian? Really? Wow, dude." Despite these allegations, Lawler did say five years ago on his "Dinner With The King" podcast that he thinks that the whiskey was iced tea.