Jake Roberts Is Not A Fan Of This Wrestling Style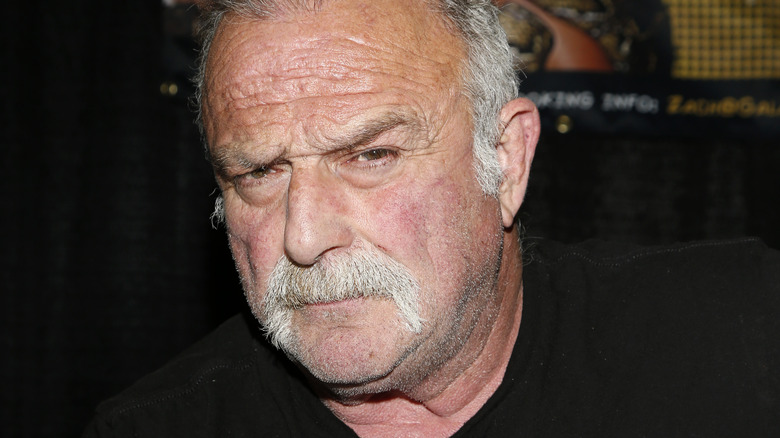 Gabe Ginsberg/Getty Images
Passionate fans of New Japan Pro-Wrestling aren't going to be happy with Jake Roberts' latest take on the strong style of professional wrestling. Strong style originally developed in Japan and strayed a bit from the traditional American style of wrestling to make the battles seem more like a legitimate fight.
But according to Jake, this is an unnecessary way to be performing for modern-day wrestlers because audiences are already privy to the fact that it's a staged show.
"For those who like it, go ahead," Jake said on the latest installment of "The Snake Pit." "Beat the s**t out of each other. You know, there's no need for it. The fans already know it's a work, so why are you beating the f**k out of each other? Because you can? You want to show somebody how tough you are? If you want to show somebody how tough you are, go out on the street corner somewhere and pick a fight. You'll be alright. Don't put me through it."
Similar to how his home promotion of AEW presents matches, Roberts prefers for two performers to put on memorable, flashy matches instead of trying to inflict as much pain as possible. "I'd much rather have a match where two guys are trying to perform and give me their very best, you know what I'm saying? Make it exciting," he said. 
In strong style, psychology is mixed with techniques from full-contact martial arts and shoot submission holds to make the contact appear as painful as possible.
It was announced recently that Roberts, Mark Henry, Paul Wight, and Shawn Dean will serve as special advisors in AEW's community outreach program, titled "AEW Together," where the mission is to "focus on youth programs, equity, service, and wellness."