Cody Rhodes Says There's No War Between WWE And AEW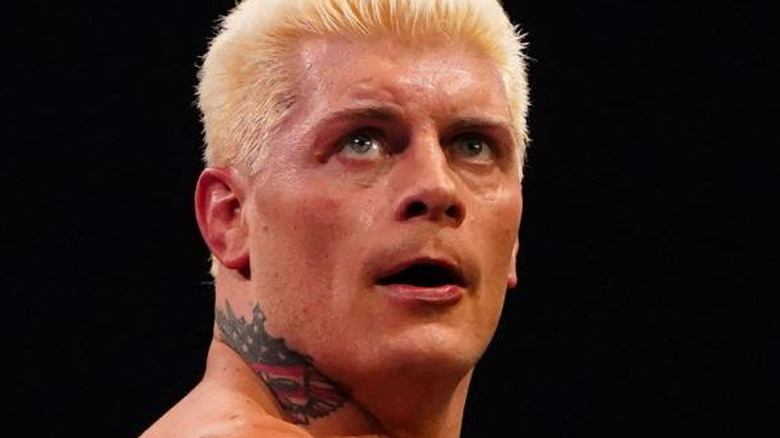 WWE
Just because WWE and AEW are the two top American wrestling companies doesn't mean a line should be drawn in the sand between them, according to Cody Rhodes. Rhodes is one of the primary reasons that AEW initially got off the ground, but he also knows that he learned a lot in his years away from WWE.
"I almost look at it like different forms of education whereas WWE is the biggest, the best," Rhodes said on "Cheap Heat." He noted that NFL fans saw Patrick Mahomes holding his version of the WWE Championship after his Super Bowl win, but "The American Nightmare" knows that competition is good for everyone, something he experienced first-hand. "I hope you don't have to argue that with many people. It's absolutely good for the industry to have these options because sometimes critics of what we do think, 'Oh this is who this person is. Oh he's Stardust, he's always Stardust. Oh he's "Dashing" Cody Rhodes, he's always this.' Gosh, no. Really, you don't finish where you start. It's all about learning."
"I definitely hit some speed bumps and tripped quite a bit in my final year away," Rhodes continued, "but coming back without all of that I wouldn't have been I feel like as complete as I am now, but it's absolutely nice to have those options." All that considered, Rhodes doesn't believe that the divide between AEW and WWE is as wide and deep as fans might think. "Again, there's no war. No war, and especially amongst locker rooms. If you're putting your boots on, girls and boys, we're bonded. We're brothers and we're sisters. There's no war."
If you use any quotes from this article, please credit "Cheap Heat," with an H/T to Wrestling Inc. for the transcription.