Bianca Belair And Montez Ford Reveal How They First Started Dating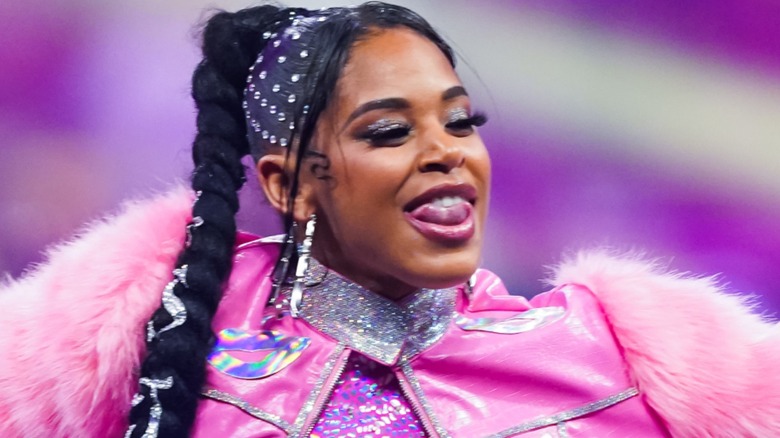 Alex Bierens De Haan/Getty Images
With Valentine's Day in full force, so is the love of Montez Ford and Bianca Belair. The WWE power couple were both special guests on "Sherri" where they went in-depth on which of them was putting the moves on the other first.
"I made the first move," Belair said laughing. "That was my first time ever going after a guy — but my very first time seeing him, I told my friend — I was like, 'Keep him away from me. That is a beautiful man.'" But it didn't happen so easily for the "The EST" with her romantic target deciding to play hard to get. After repeatedly making attempts to flirt with him, it wasn't until he made a compliment about her make-up that things started to happen. 
Ford revealed to host Sherri Shepherd that he was actually nervous at the start and didn't make the first move because he was trying to be respectful. He wasn't totally clear on the signs Belair was sending. "I made the first move, and then I accidentally gave him the wrong phone number," Belair added. 
"She missed it by one number, and we were both very, very, very sad because like, I was texting her and I didn't get a reply," Ford explained. Later on, one of his friends told him that she had left her phone charger in his car. He was flabbergasted as to why she wasn't texting him to inquire about it, but after checking his friend's phone, he saw that Belair had given him a "3" instead of a "6." 
In the end, things sorted themselves out, and the couple would announce their engagement in 2017. They became husband and wife a year later. A reality show is in the works, showing their lives together both in and out of the ring.