Jerry Jarrett Reportedly Dead At 80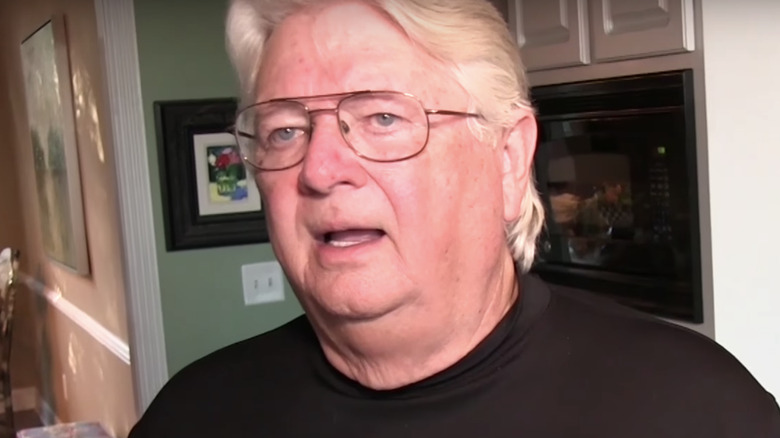 Hannibal TV/YouTube
Legendary wrestling promoter Jerry Jarrett, best known for founding the Memphis-based Continental Wrestling Association in 1977, has reportedly died at the age of 80. The news was broken for most on Twitter by longtime CWA wrestler Dutch Mantell and confirmed by Pro Wrestling Insider, who credited Memphis Wrestling historian Mark James with the initial announcement.
"I'm hearing reports of my friend and long time booker/promoter Jerry Jarrett died this morning in TN," Mantell tweeted. "I last saw him last year when we did the Vice show The Territories in Atlanta. Very creative booker. Condolences to Jeff/Deborah and the Jarrett family."
While there has been no announcement yet by the Jarrett family or revelation as to the cause of death, podcast host Conrad Thompson mentioned Jarrett had been battling esophageal cancer during a recording with Jarrett's son, AEW star Jeff Jarrett, that was released earlier today.
Jarrett's career spanned decades as both a wrestler and promoter. In 1969, he made his in-ring debut for NWA Mid-America, where he went on to become a 10-time NWA Southern Tag Team Champion. Jarrett initially retired from in-ring competition in 1988 ahead of promoting United States Wrestling Association, but competed in a handful of matches for USWA until his final bout in 1995. 
In 2002, after years of consulting work with both World Championship Wrestling and the World Wrestling Federation, Jerry and son Jeff co-founded the promotion that became Total Non-Stop Action Wrestling, now known as Impact Wrestling. Jarrett parted ways with TNA in 2005 after a dispute over the company's direction — this led to a falling out between Jerry and Jeff until their reconciliation a decade later, after agreeing to never talk about wrestling.
In 2018, Jarrett was inducted into the Wrestling Observer Newsletter Hall of Fame.