Kevin Owens Gets A Dinner Invite From NHL Coach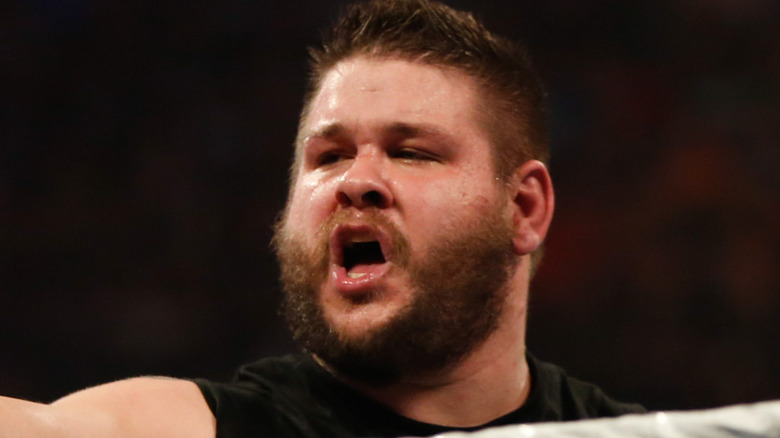 Jp Yim/Getty Images
Kevin Owens is currently wrapped up in one of the biggest storylines in WWE history over the last 30 years, but a long-time fan of the former WWE Universal Champion has his eyes set on another interaction. Long-time NHL coach Bruce Boudreau joined WWE's Jackie Redmond on the NHL Network, talking about his friendship with Owens. During his appearance, Boudreau detailed that he had spoken to Owens that day and the two had discussed getting together for dinner. The former Vancouver Canucks Head Coach revealed that when WWE comes to Hershey, Pennsylvania on May 22nd, he invited the Canadian wrestler to his home for a friendly dinner, offering to make him burgers and fries.
The friendship between Boudreau and Owens dates back to December 2021, when Redmond had teased the coach about his fandom of professional wrestling and his love of KO. In response to the love shown by Boudreau, Owens said the feeling was mutual during an interview with Sportsnet, sharing his love for the legendary hockey coach. The two then met for the first time at the 2022 NHL Draft, with Owens surprising Boudreau during the NHL Network's panel. At that time, Boudreau felt star-struck by his favorite WWE superstar, admitting he was blushing when he first saw Owens. 
The love between the two didn't stop there, with Owens donning a custom-made KO Canucks jersey during a WWE Live Event in Vancouver a few months back, stating in his promo that it was gifted to him by the team's coach while a chant for Boudreau broke out. Unfortunately, since then, Boudreau was fired by the Canucks on January 22 and left without a job.