Konosuke Takeshita Reduced To Tears Watching Keiji Muto's Final Match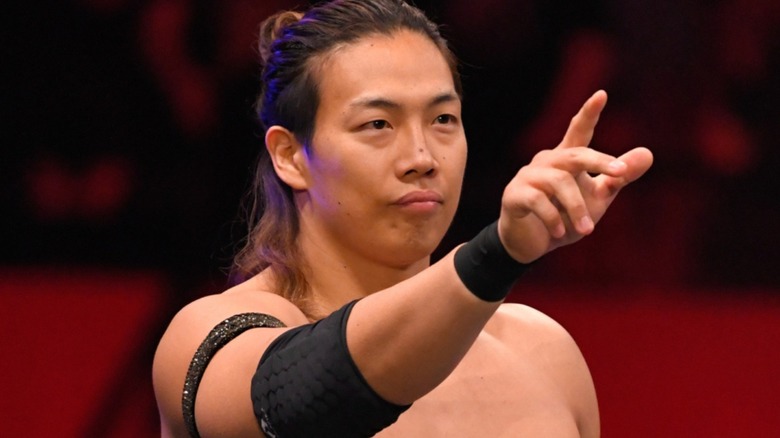 AEW
While the old adage in wrestling is to "never say never," the career of the legendary Keiji Muto, aka The Great Muta, likely came to its very end early today. Muto concluded his career in the Tokyo Dome, losing to Tetsuya Naito in what was widely believed to be his retirement match, before wrestling an impromptu final match, challenging and losing to Masahiro Chono. Given the legendary status of Muto in Japanese wrestling, the curtain closing on his time in the ring was understandably an emotional experience for many fans, including one who is on the rise in AEW.
Konosuke Takeshita took to Twitter after Muto's last match to pay tribute to one of his wrestling heroes and unpack some of his feelings about this chapter of wrestling history being finished. "A Japanese legend wrestler left the ring," Takeshita wrote. "I could not stop crying when I watch his last match. Yes, I guess pro wrestling is the best sport and entertainment. My wrestling career is still going on. I dream of one day becoming a superstar like you. #MutoFinal."
While Takeshita and Muto barely connected during their respective careers, they did manage to find the opportunity to step into the squared circle with one another twice for tag team action. Over the past year, some have drawn parallels between Takeshita and Muto's careers, comparing Takeshita's current run in AEW to Muto's emergence on the scene in WCW; Muto's brief stint, which began in 1989, was America's first taste of his in-ring abilities and one that helped put the future Hall of Famer on the map for a new audience.
Muto's last match comes a month after his final appearance as the Great Muta — a match where he teamed with AEW's Darby Allin and Sting, Muto's old WCW rival. The trio defeated AKIRA, Naomuchi Marafuji, and Jinsei Shinzaki — best known to American fans as the former WWE star Hakushi.