Bruce Prichard Reveals That WWE Was Once In Talks To Buy Playboy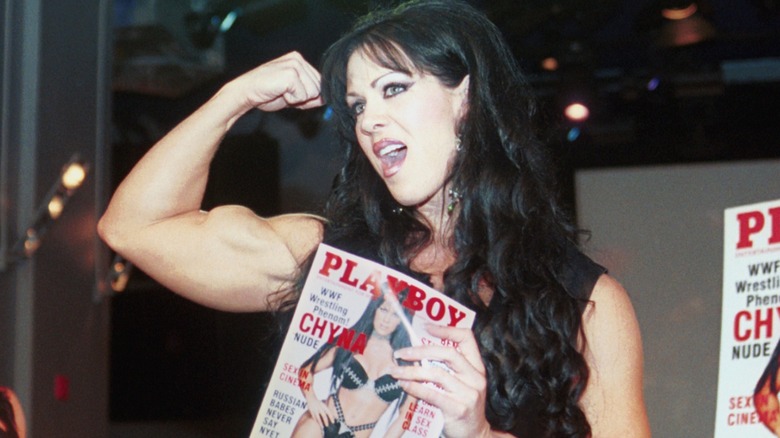 Spencer Platt/Getty Images
There was a point in time when WWE and Playboy magazine worked fairly well with one another. During the period of their collaboration, WWE Divas — Sable, Torrie Wilson, Chyna, Candice Michelle, Maria Kanellis, Christy Hemme, and the late Ashley Massaro — graced the cover of the publication, giving the company and the women involved a great deal of extra exposure, both literally and figuratively. However, WWE switched to much more family-friendly approach to its programming in 2008, ushering in the "PG Era" that put an end to all that. But on the latest episode of his "Something to Wrestle" podcast, WWE Executive Bruce Prichard admitted that WWE had actually engaged in conversations to buy Playboy prior to that.
"We were winding down the Playboy association," Prichard said. "And again, we were in transition. We were transitioning to a more PG-themed product. But there was a point in time where we were negotiating to actually purchase Playboy. That was an interesting time as well."
For decades, WWE has looked to stay relevant in the entertainment industry by expanding its reach, and this would've fallen along those lines. Crossover promotion can be a huge help in hitting new audiences, and WWE and Playboy had already established a successful working relationship. Getting as many eyes as possible on the product is always the goal, and as Prichard explains, having the Playboy partnership to begin with did just that. So even though that relationship came to a close as soon as WWE made the switch to PG, he believes their relationship overall was a positive one.
"I think that anytime that you can be on newsstands in front of the public, whether they bought it or not," Prichard continued, "when you would walk by a newsstand, you would see your stars on the cover. Whether they bought it or not, they saw those stars on the cover of Playboy and that was like 'Oh hey — wow, that's a huge celebrity.'"
If you use any quotes from this article, please credit "Something to Wrestle" with a h/t to Wrestling Inc. for the transcription.