Zoey Stark Worries About 'Getting Lost In The Shuffle' On WWE Main Roster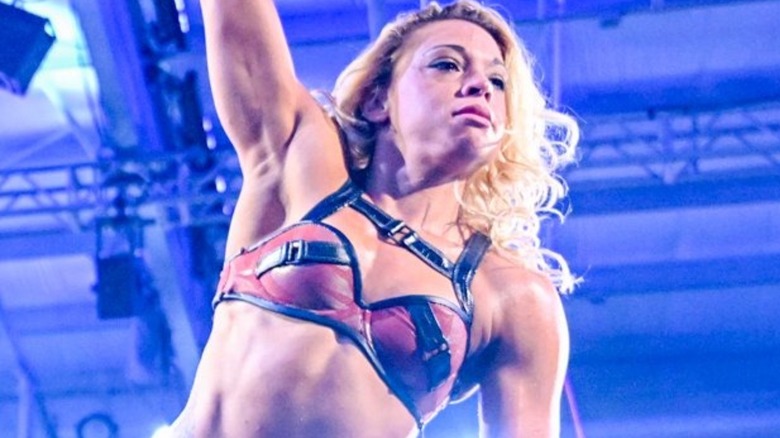 WWE
Zoey Stark is a bit worried about eventually finding her place on the WWE main roster but realizes being unique is a key component to anyone's success in wrestling. Prior to tonight's "WWE NXT," Stark was a special guest on "Busted Open Radio" this morning and was asked about what should be an eventual call-up for her to "WWE Raw" or "WWE SmackDown"
"I just had a conversation with Shawn Michaels, and he was saying that he really wants me and everybody else in 'NXT' to really focus on what we are doing on 'NXT,'" she explained. "'What is next? Don't think about ten years from now, focus on now.' But to be completely honest, every single day I'm thinking about the main roster. What do I need to do to get on the main roster, 'cause that's where we all want to go."
Stark said she's "1000% focused" on her match with the legendary Meiko Satomura tonight, but she does always have that main roster goal in the back of her mind — in addition to some fears about what could happen when she gets there. "There's always some fear in my head with a little bit of insecurity where I'm scared of getting lost in that shuffle, especially now. Their roster, I feel, is pretty stacked," Stark added, noting that she has to showcase what's unique about her to stand out.
"I'm gonna be completely honest here; it's so hard to figure that out. But, for me, I truly do believe that when I'm there, I'm an absolute badass. Nobody could beat me, nobody could touch me." Stark finds a lot of similarities with a certain video game heroine that keeps her going. "I envision myself as a Lara Croft where I just don't quit. I just keep fighting and figuring out what the next thing is."