Keith Lee Wanted To Wrestle Kurt Angle In WWE Before He Retired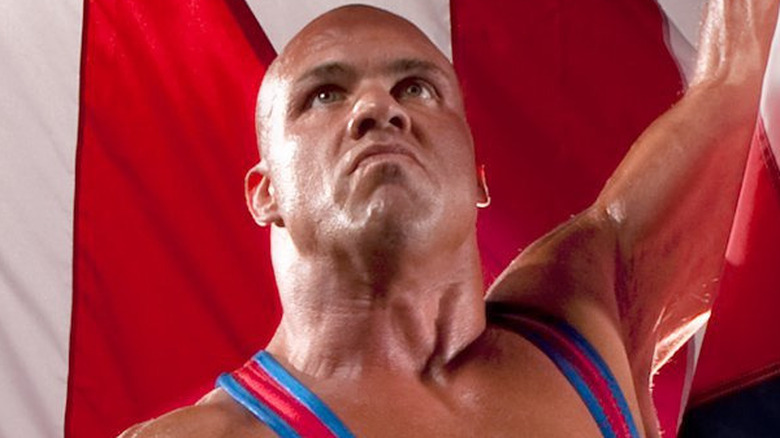 WWE
After nearly 20 years competing in the ring, Kurt Angle decided to hang up his boots in April 2019. "The Olympic Hero" hoped to wrap up his career with a win, but ultimately, WWE made the call to put over Baron Corbin in Angle's retirement match at WrestleMania 35. Angle returned to WWE upon his Hall of Fame induction in 2017, after a decade with TNA. That fall, Angle returned to in-ring action. Over the next 18 months, he competed occasionally while simultaneously juggling his role as "WWE Raw" General Manager. During the course of Angle's final run, one former "WWE NXT" star patiently waited in the wings, hoping to fulfill a longtime dream match against the former WWE Champion.
"For as long as I could remember, my number one dream match was against Kurt Angle. When I tell you I had an entire match in my head of things I wanted to happen. I wanted 20, 30 minutes [with him]," Keith Lee told "The Masked Man Show." Unfortunately, Lee's wish never came to fruition, as Angle retired before the "Limitless" superstar reached the main roster.
Lee also revealed that Angle, along with two others, ranked high among his favorite wrestlers. "My influence in this industry is a three-way cross, it's a triangle, maybe even isosceles, and it is a cross between early [2000s] Brock Lesnar, Kurt Angle, and Low Ki," he said. "Those are some of my biggest influences, and then right there on the precipice is Great Muta. Those are my biggest influences and people I love to study and/or watch."