Eddie Kingston Credits ECW For Making Him Fall In Love With Wrestling Again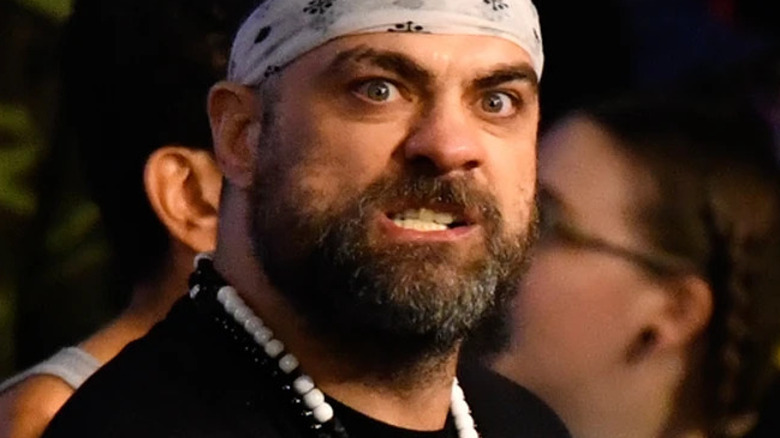 AEW
Eddie Kingston has become a polarizing figure as of late, and in his latest provocation, announced that he "quit" AEW last night after "AEW Dynamite." Perhaps it's unsurprising then that while appearing recently on "Talk Is Jericho", Kingston spoke about the impact outlaw promotion ECW had on him and the wrestling industry as a whole, detailing that during his teenage years, he fell out of love with wrestling due to WWE's commitment to programming towards a younger audience.
"I fell out of love with wrestling because it was very kiddy," Kingston said. "I just got tired of it ... I was becoming a teenager and a friend of mine put on ECW, the first thing I see is New Jack and I go oh, I grew up with guys like that. I see Raven with his whole depression stuff and I go oh, I feel like that. I see [Tommy] Dreamer, he's from Yonkers and I see Shane Douglas and I see blood and half-naked women. ECW brought me back into pro wrestling where I found guys like Chris Jericho. ECW brought in Eddie Guerrero, Chris Benoit, Dean Malenko. A lot of the style that you see today, yes it's an elevated version but it would never be on TV if it wasn't for guys like Eddie Guerrero, Dean Malenko, and Mr. Jericho himself. ECW gave them that platform."
Kingston also credited "The Franchise" Shane Douglas establishing the ECW Championship by throwing the NWA World's Heavyweight Championship to the ground as a significant moment that brought him back to wrestling. The "Mad King" also stated that whether people like it or not, ECW "changed the business" because, in his opinion, Vince Russo used the company's product as an influence when helping create WWE's Attitude Era.