MJF And Tony Khan Discuss Water Incident Involving Young Fan At AEW Revolution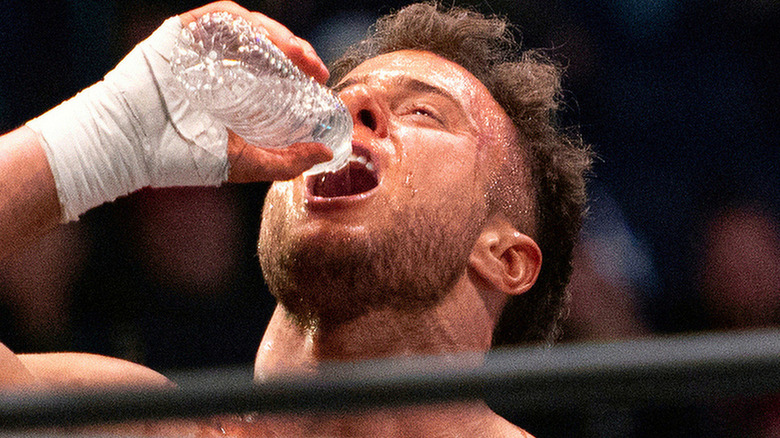 AEW
In the midst of Sunday's epic 60-minute Iron Man match on AEW Revolution, MJF seemingly made a young fan's night one to forget.
Five minutes into the show's main event with Bryan Danielson, the AEW World Champion went behind the barricade, grabbed a fan's glass of water, and dumped it on her son ringside. Despite many believing the spot was planned, Fightful's Sean Ross Sapp claims MJF actually did go rogue, stating that the kid was not a "plant" ringside and "was very upset" with the incident. The situation prompted AEW talent to have a talk with the mother and son, along with Amanda Huber, the wife of the late Brodie Lee, who sat next to the child ringside. 
Speaking on the situation during the post-show media scrum, MJF, in typical fashion, stated that the "kid looked thirsty," seemingly showing no remorse. Sitting beside him, AEW CEO Tony Khan made sure to emphasize how seriously he, MJF, and the company took the situation, revealing that the child would be attending this Wednesday's "AEW Dynamite" in Sacramento.
"We had a conversation before [MJF and I] came up here, we had a serious conversation and it's not to be taken lightly," Khan said. "The young man, Titus, was a real pro about it, and we'll see Titus here again in AEW. I was just with him, and he was a real champ about it, and the champion didn't act like a champion there. I think Titus was great."
MJF closed the conversation about the situation by calling the child the "salt of the earth," joking that he's "real worried about him." Unfortunately, this isn't MJF's first time having issues with fans — the current AEW world title holder had a beer thrown at him at Full Gear in 2019.