Jake Roberts Believes Wrestling Is 'In A Real Bad Spot' Telling Stories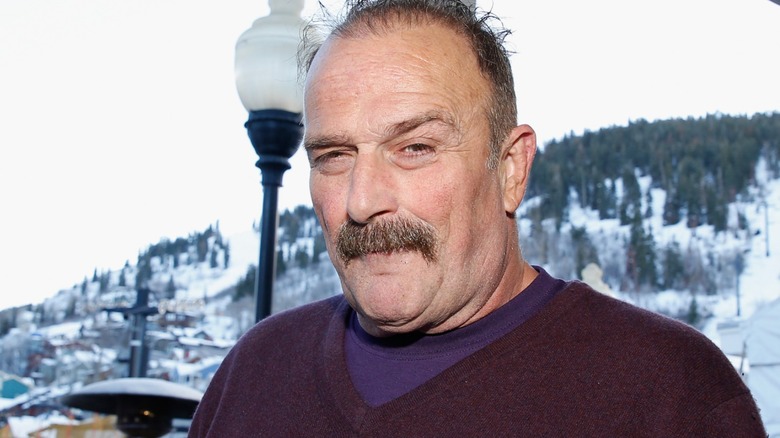 Rick Kern/Getty Images
While fans have been impressed in recent months with WWE's capacity for storytelling, as evidenced by the angle involving The Bloodline and Sami Zayn, there are still some skeptics who believe that the story aspect of wrestling has become a glaring weakness. You can count WWE Hall of Famer Jake "The Snake" Roberts among them. Roberts appeared on "Cafe de Rene with Rene Dupree" and threw in his two cents on the topic.
"It's in a bad spot, man. It's in a real bad spot," Roberts exclaimed on "Cafe de Rene with Rene Dupree" as he claimed there is much more focus put on cool spots than basic ring psychology. "Unfortunately, what is happening is these young wrestlers — they haven't learned anything about telling a story. They don't understand, and they've gotten into these high-flying suicide dives, doing every move in the book. But they forgot to do one thing: sell. They don't know sh*t, and that's a crying shame."
Roberts went on to say that there's a select few of the current generation that knows how to sell. Sadly, he doesn't believe things will change anytime soon though because TV deals are now the ultimate money-driver for wrestling promotions in America. To him, the mentality of the decision-makers at these companies is that the TV shows need a "crash and burn" style.
Remembering his active years, Roberts said that wrestlers and promotions would "build a story for weeks." That's not the case these days though as companies start a story and pay it off that same night, he claims — and he has a front-row seat in AEW to witness Tony Khan's approach. He doesn't think there's a lot of time to develop and "nurture" the matches. "The biggest thing missing today is the art of selling," Roberts said.
If you use any quotes from this article, please credit "Cafe de Rene with Rene Dupree" with an H/T to Wrestling Inc. for the transcription.