Jake Lee Calls Kiyomiya 'Smileless,' Sees GHC Championship As A Symbol Of Freedom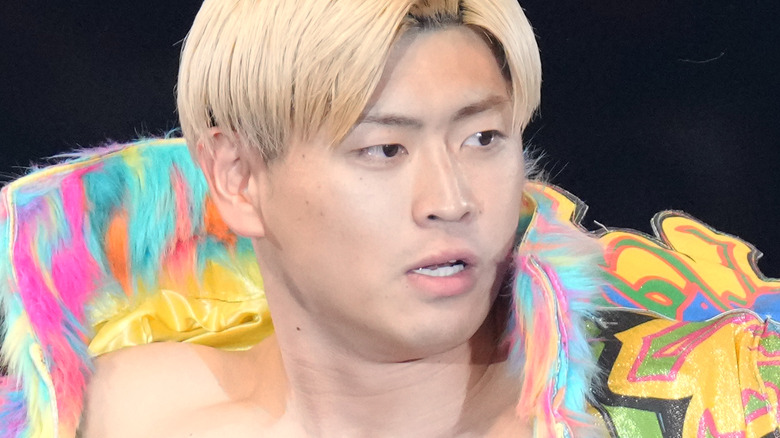 Etsuo Hara/Getty Images
Being the world champion in pro wrestling can be a weighty responsibility, especially for someone as young as 26-year-old GHC Heavyweight Champion Kaito Kiyomiya. Kiyomiya's upcoming challenger Jake Lee believes that he's cracking under the pressure.
"The GHC title is a heavy burden for him," Lee said in an interview with Pro Wrestling NOAH. "Let the belt go, and take a rest. Then challenge again, right? You'll play a leading role in the future, right?" Lee believes that Kiyomiya should "give" Lee the title and take a rest, noting that he's become a curiously serious competitor. Lee says no one wants to see the champion the way he is currently. "I said, 'What a smileless champion.'"
Lee goes on to note that Kiyomiya furrows his brow too much, and began to psychoanalyze the champion. "I don't know if he carries everyone's expectations. 'Why the grim look on his face?' That's my impression of him." It's personal for Lee, who believes that the GHC Champion should be grateful for his position.
"GHC is the symbol of freedom for me," Lee confessed. "Something appears inside me, and I came here for the title."
Lee is set to face Kiyomiya for the title on March 19 in Yokohama, Japan. It is Kiyomiya's fifth defense of the title since winning it from Kenoh in September, and his first singles match since his embarrassing loss to Kazuchika Okada at Keiji Mutoh's retirement show. Okada defeated Kiyomiya in a brief sixteen-minute match in the Tokyo Dome.