Rhea Ripley Claims Her Tattoos Are 'Spot-On' In WWE 2K23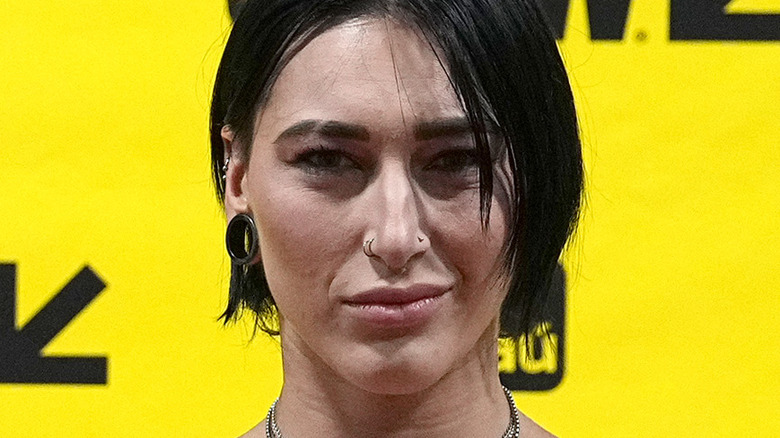 Stephen Olker/Getty Images
2023 may as well become the year of Rhea Ripley. Not only did she win the women's Royal Rumble match and punched her ticket to WrestleMania 39 to face Charlotte Flair for the "WWE SmackDown" Women's Championship, she also continues to be a menace as the "Eradicator" of The Judgment Day, getting in the face of anybody who gets in their way. She also finds herself in a video game, this time "WWE 2K23."
Speaking to JOY Media's "Checkpoint" podcast, Ripley praised the game's realism while continuing to hype up The Judgment Day. "It looks exactly like me, it walks exactly like me," Ripley said. "You've got Finn and Priest there next to me. Dom hasn't been added yet, but I know people are gonna do it."
But what captured her eye the most was the game's attention to detail. "It's insane to see how spot-on it is," Ripley continued. "Even just like my tattoos. My tattoos are in the game."
"I think 2K definitely killed it this year around," Ripley declared. "I think everything is so extremely spot-on," said Ripley.
Interestingly enough, when it's come to capturing the likeness of certain WWE superstars in the past, the promotion and 2K have gotten themselves into hot water.
Most recently we can look at the case of Randy Orton, which dates back to when tattoo artist Catherine Anderson filed a lawsuit against WWE, 2K Games, Take-Two Interactive Software, and Yukes in 2018, alleging that multiple works tattooed on Orton between 2003 and 2008 were used in WWE video games without their permission while they were also not compensated for it. Alexander was ultimately awarded $3,750, which prompted 2K Games and WWE to file an appeal. 
If you use any quotes from this article, please credit "Checkpoint" with a h/t to Wrestling Inc. for the transcription.