Taya Valkyrie Gets Confused As To Which Johnny Her Husband Is Sometimes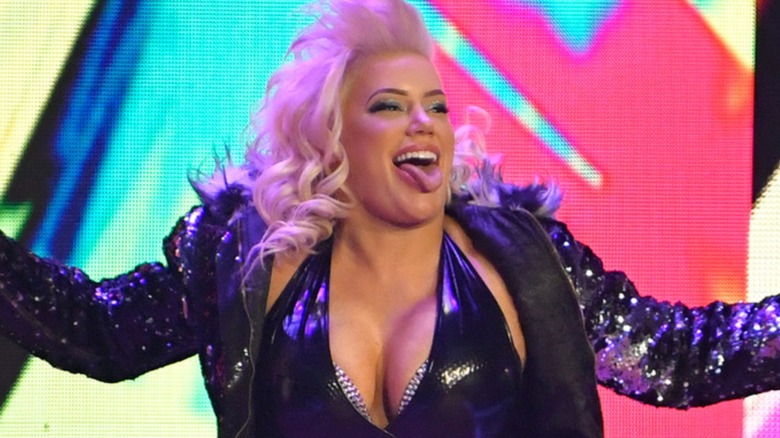 AEW
Taya Valkyrie is officially All Elite, debuting on this week's "AEW Dynamite" after touring nearly every other notable promotion over the last several years. Outside the ring though, she's married to fellow wrestler John Hennigan, whose ever-changing last name depending on where he might be wrestling at the time has become a bit of a running joke. He uses his real name in MLW but has gone by John Morrison and Johnny Nitro (WWE), Johnny Caballero and Johnny Mundo (Lucha Libre AAA Worldwide), and even Johnny Impact (Impact), among others.
Speaking to WrestleZone last week, Valkyrie herself admitted to getting confused by his various names. She's also unsure as to whether or not this is the first time — in MLW — she's worked with him as John Hennigan. "I don't know, maybe?" she questioned. "I'd have to kinda look back and really think about it because the name changes perpetually non-stop." When it comes to addressing him, though, she plays it safe, saying "He's just John, Johnny to me. That's all that matters. Johnny Husband."
To avoid any confusion, Valkyrie sticks to calling him John or Johnny whenever they're at work rather than by what his full wrestling name might be on that particular day. "I also can't keep track just like all of you," she added with a smile. However, there is one other name that she's previously pitched for him: Johnny Valkyrie. And while it hasn't materialized yet, she's hoping it becomes a reality at some point down the line.
"I pitched it!" she continued. "I told him 'I just think that you should just be Johnny Valkyrie.' It makes sense ... I will continue to push for that."
If you use any quotes from this article, please credit WrestleZone with a h/t to Wrestling Inc. for the transcription.