Bully Ray Claims He And Tommy Dreamer Aren't Close, Despite Co-Hosting Busted Open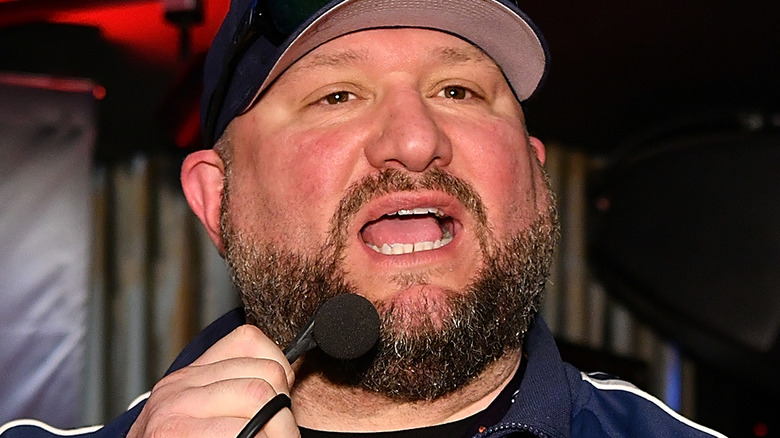 Slaven Vlasic/Getty Images
Bully Ray and Tommy Dreamer are in the midst of yet another blood feud — a long-standing rivalry that has been ongoing since the '90s. This time, their feud is taking place within Impact Wrestling, where Ray returned in October while claiming to be a changed man. Dreamer fell for the act, which led to Josh Alexander and other members of the roster being tortured as a result. Ray recently spoke to "DAZN Wrestling" and claimed that he and Dreamer are not close despite being real-life co-hosts of "Busted Open."
"What people failed to realize about me and Tommy's relationship is it is more strained now than it ever has been," Ray said. "People assume that because me and Tommy are on 'Busted Open' together that what they see play out on television is scripted. Me and Tommy haven't been close in a long, long time. We have to get along on 'Busted Open' because we have to get along on 'Busted Open.' It is basically in our contracts that we have to get along, coexist. What goes on on 'Busted Open' and what goes on at 'Impact' are two different things."
Ray claims that what's going on in the ring between them is "more real" than fans will ever know. As a result, the two are now set to clash tonight at Impact's Sacrifice event in Windsor, Ontario, in the first "Busted Open" match. The rules for the bout will work similarly to a "First Blood" match where the goal is to make the opponent bleed first in order to win.
If you use any quotes from this article, please credit "DAZN Wrestling" with a h/t to Wrestling Inc. for the transcription.