Arn Anderson Will Probably Never Allow The Four Horsemen To Be Resurrected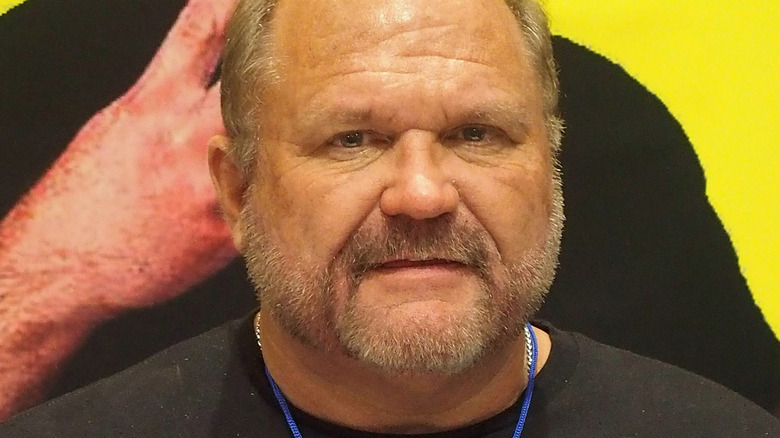 Bobby Bank/Getty Images
The Four Horsemen is one of the most iconic factions in pro wrestling history. Arn Anderson was a prominent member of the group for most of its existence, and he was part of the celebrations alongside Ric Flair, Tully Blanchard, Barry Windham, and JJ Dillon when the stable was inducted into the WWE Hall of Fame.
With the stable finding much success, some have wondered if a new version of the Four Horsemen is possible in AEW. However, Arn isn't a fan of the idea. 
"I own the trademark," Anderson said on "ARN." "With my approval, [AEW] could 100% [create a new Four Horsemen]. Probably going to cost a few bucks ... I'm not going to allow that to happen. The only way that would work, because that's a tremendous thing to do. Could you imagine walking in and being part of the New Four Horsemen? The expectations are going to be huge unless you had the right combination of guys and they were going to do the right things with it and it be something special which it was for a lot of the time."
Arn's son, Brock, is currently in a tag team with Brian Pillman Jr., whose late father, Brian Pillman, was also a member of the Four Horsemen. They have mainly wrestled on AEW's YouTube shows, with them yet to make their AEW TV debut as a tag team. While Arn remains against the idea of a new Four Horsemen, Ric Flair was previously open to a new iteration of the group after Cody Rhodes teased one in 2020.
If you use any quotes from this article, please credit "ARN" with a H/T to Wrestling Inc. for the transcription.