Edge Reveals Whether He Ever Thought Of Leaving WWE For Another Company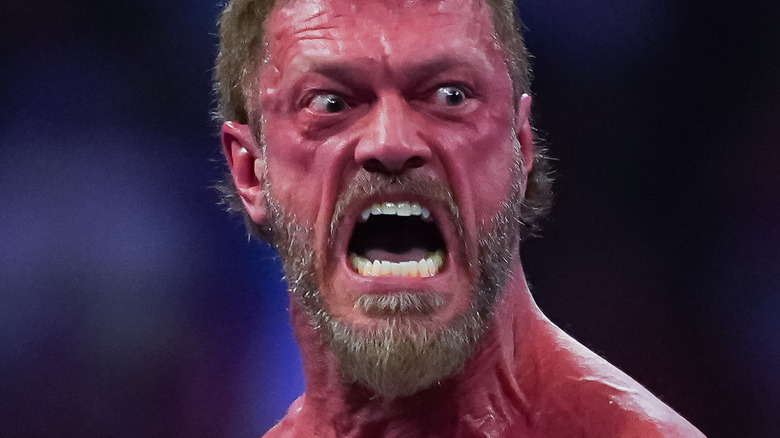 Alex Bierens De Haan/Getty Images
WWE Hall of Famer Edge remains active in WWE today after first working for the company in 1996. He initially retired in 2011 due to a neck injury but later returned to the ring in the 2020 Royal Rumble match to kick off this latest stint of his career. There was a possibility, though, that Edge could've ended his career elsewhere as he reportedly received an offer from AEW in 2019.
While he still hasn't confirmed the details of the offer to step away from WWE, Edge did explain to "SportsNet 590 The Fan" what his thought process was when the opportunity was presented itself.
"There was an opportunity to [leave WWE]," Edge said. "Again, it's where I've spent my entire career outside of the indies. This year will be my 25th year with WWE since my television debut. Just having been there so long and understanding how it works, understanding the machine that it is, there's something to be said for that. There's also something to be said for trying something new and exciting. A new set of faces and a new way for the way things work."
Edge added, "I've always been a loyalist, though, in terms of that company. It's what I grew up watching and where I always wanted to get to. What it boils down to is where I think I can have the most fun, honestly." The 49-year-old said that because he's done all there is to do in WWE, he just focuses on doing what he enjoys the most at this stage of his career. The "Rated-R Superstar" is gearing up to compete in his 14th WrestleMania match this weekend when he battles "The Demon" Finn Balor in a Hell in a Cell match.
If you use any quotes from this article, please credit "SportsNet 590 The Fan" with a h/t to Wrestling Inc. for the transcription.