Peacock Is Filming 'The Documentary With No Ending' On Cody Rhodes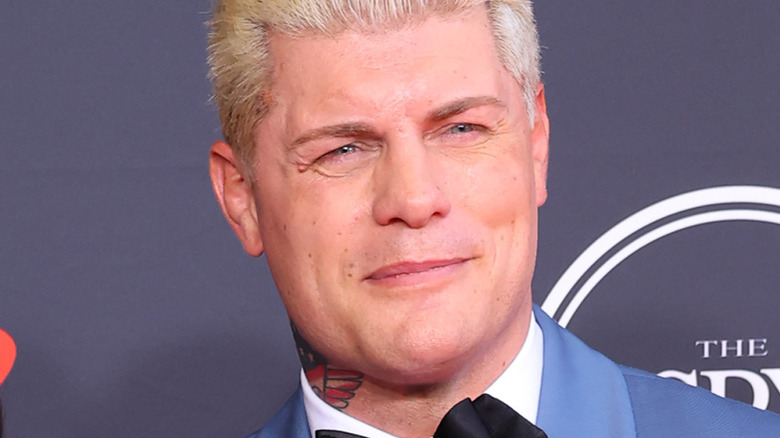 Leon Bennett/Getty Images
Cody Rhodes is on his way to the main event of WWE WrestleMania 39 to continue the story of why he returned to WWE last year. His path to a WWE Universal Championship match took a major detour, though, when he suffered a torn pec in June just two months after his return. WWE tends to follow comeback stories with documentaries to shine light on the behind-the-scenes process, and that is no different with the "American Nightmare." Rhodes recently appeared on "The Rich Eisen Show" and opened up about why he has camera crews following him.
"Well, I have what I'd say is an adversarial relationship with this crew that's on the other side of your cameras," Rhodes said. "Peacock has been shooting a documentary on me that is what I kind of dubbed 'The Documentary That Has No Ending.' They just keep filming, keep shooting." Rhodes shared that he thought his Royal Rumble comeback and victory would've marked the end of filming, but they're still following him around.
While his forthcoming documentary may not have an end in sight, Rhodes is walking into WrestleMania to "finish his story" of going from undesirable to undeniable. He left AEW in February 2022 and made a surprise return to WWE at WrestleMania 38 to pick up a big win over Seth Rollins. Rhodes was briefly featured in the newest episode of "WWE 24" that highlighted last year's grand event in Dallas, but it seems he will be the focal point of a forthcoming documentary that does not have a release date as of this writing.
If you use any quotes from this article, please credit "The Rich Eisen Show" with a h/t to Wrestling Inc. for the transcription.