Bruce Prichard Reveals Cody Rhodes-Roman Reigns Has Been In The Works Since August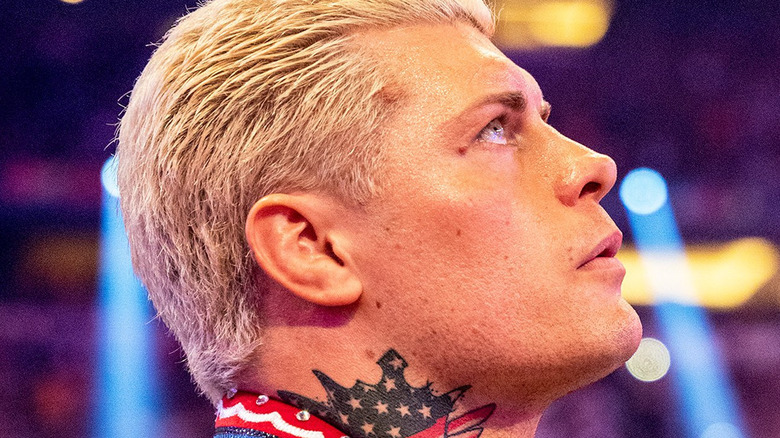 WWE
The main event for WrestleMania 39 has been in the works since August, Bruce Prichard revealed ahead of this weekend's marquee event. Prichard told "The Press Box" that WWE had long seen Cody Rhodes as the ideal challenger for Roman Reigns' Undisputed WWE Universal Championship on the company's "grandest stage," but that nowadays the promotion is aware plans can change on a dime if say a wrestler suffers an injury.
"You can look into the crystal ball a year ahead of time and think to yourself what would be a great attraction? And that takes many machinations where you look at, here's your ideal scenario, here's where I'd really love to go and where we think we will be," Prichard said. "However, as you start on that journey, you're dealing with human beings, and you're dealing with flesh and blood and bones. So along the way, a lot of things can happen that will change that trajectory — people could get hurt, different things could come up. So, what your wish list is, is oftentimes different than where you ultimately end up. I would say that getting to this place where we are started probably in August."
Prichard said that's the same timeline WWE had when it was crafting the 1988-89 angle between Hulk Hogan and "Macho Man" Randy Savage leading up to WrestleMania 5, when tensions between the two characters boiled over and the "Mega Powers" exploded. "The best story is when you can see it through both sets of eyeballs and you can relate to both," he said. "It's like, 'He's got a good point.' 'Oh yeah? Well, he's got a good point too!' Those are the best and most difficult to write sometimes."
If you use any quotes from this interview, please credit "The Press Box" with an h/t to Wrestling Inc. for the transcription.