The Usos Denied Meeting With Roman Reigns On WWE Raw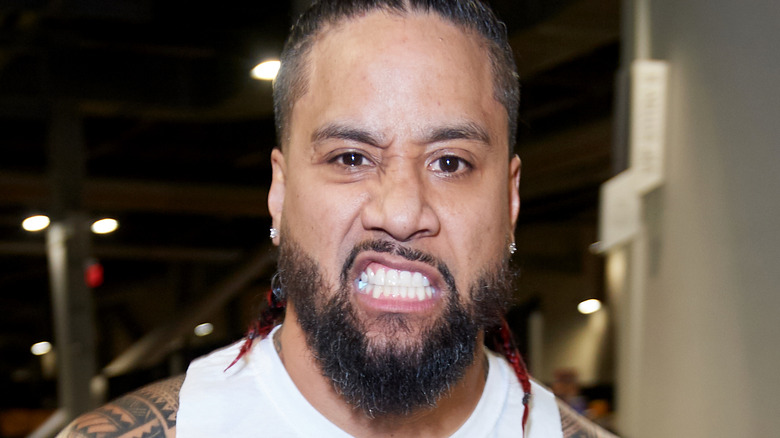 Unique Nicole/Getty Images
Roman Reigns held his end of the bargain as he retained his Undisputed WWE Universal Championship at WrestleMania 39. However, his cousins, The Usos, ended up losing their Undisputed WWE Tag Team Championship to Kevin Owens and Sami Zayn at the Showcase of Immortals, a fact that has seemingly upset "The Tribal Chief."
This was evident on last night's "WWE Raw" where Paul Heyman did not allow Jey and Jimmy Uso to meet with Reigns, asking the twins to "get a headstart" and wait for the rest of The Bloodline to meet them after the show.
"The Tribal Chief just stepped outside with Solo," Heyman informed The Usos in a backstage segment. "They are having a Tribal Chief to Enforcer talk about the whole Brock Lesnar – Cody Rhodes situation. So, they are outside, talking strategy together. And the Tribal Chief wanted me to let you know what a wonderful WrestleMania this was...for some." 
"With all due respect, he wanted to let you know that your contributions this weekend were greatly appreciated," Heyman continued. "He wants to let you know the jet is fired up. We'll be on the jet with you after they wipe the floor with Cody Rhodes and Brock Lesnar. He says you should get a headstart, there's plenty of fresh seafood waiting."
Immediately after the interaction, Heyman could be heard saying, "I took care of it, my Tribal Chief," as he entered Reigns' locker room. The segment implied that Heyman lied to The Usos about Reigns not being in his locker room and that Reigns was in no mood to entertain his cousins. 
According to fans on social media, the segment sowed the seeds for the eventual implosion of The Bloodline, an eventuality that has been widely expected for several months. On the final "WWE SmackDown" before WrestleMania, Zayn implored The Usos to "get back to being yourselves" rather than allowing Reigns to dictate their career path. Jey Uso, in particular, seemed conflicted while heeding Zayn's words, hinting at The Usos breaking away from The Bloodline.
As for Owens and Zayn, the new champions are scheduled to appear on Friday's "SmackDown." It remains to be seen if The Usos' rivalry with them continues as WWE heads to Puerto Rico for the Backlash PLE on May 6.