Cody Rhodes Recalls Feeling Like He'd Hit 'Rock Bottom' With Stardust Character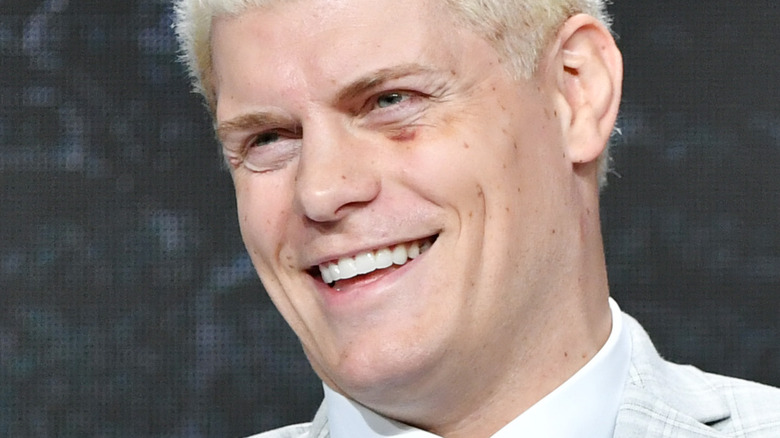 Amy Sussman/Getty Images
Long before winning the 2023 men's Royal Rumble and challenging Roman Reigns for the Undisputed WWE Universal Championship at WrestleMania 39, Cody Rhodes played the Stardust character in WWE, which had similarities to the Goldust gimmick played by his brother Dustin Rhodes for several years. When Rhodes was asked about the lowest moment during his initial run with the Stamford-based organization between 2006 and 2016, he brought up his time as Stardust. 
"There was a lot of rock bottom [playing Stardust]," Rhodes told Ariel Helwani for BT Sport. "Charlotte Flair brought a fan to a show. She told him, 'Hey, do you wanna meet Stardust?' and I was just not painted up or anything there earlier in the day in like my sweats. And he came up to me, he's like, 'You're Stardust?' I was like, 'Yeah, yeah, and I used to wrestle as Cody Rhodes.' And he was like, 'What? Who? What do you mean?' He had no idea that I'd won the Intercontinental title or won some tag titles or Legacy. Nothing. Stardust was his only knowledge of me, and that was a rock bottom moment."
Rhodes described that encounter with the fan as a big "uh oh" moment for him, where he realized that he needed to leave the company. The 37-year-old exited WWE after requesting his release in May 2016, nearly two years after debuting the character. Rhodes recently explained that he began feeling "very dead inside" after initially attempting to make the most of the gimmick. 

If you use any quotes from this article, please credit BT Sport with an h/t to Wrestling INC. for the transcription.