Jim Ross Reveals His Favorite WWE WrestleMania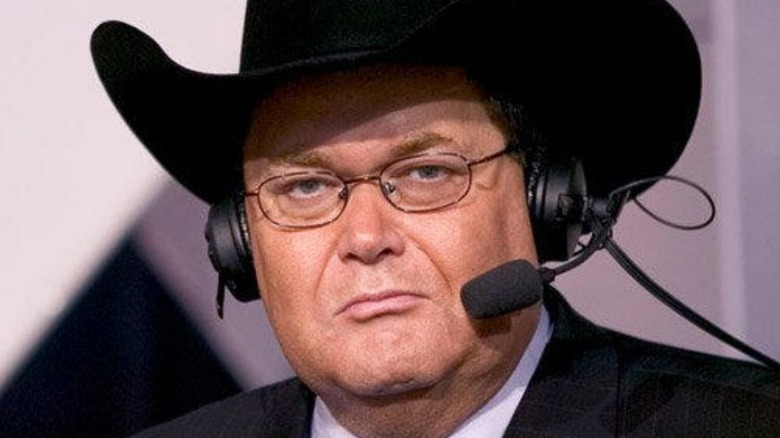 WWE
WWE Hall of Famer Jim Ross has called 17 WrestleManias throughout his career, with his first being WrestleMania 9 in 1993. He has been in the commentary booth for many iconic WrestleMania moments, such as Hulk Hogan versus The Rock at WrestleMania 18 and Edge winning the first-ever Money in the Bank Ladder Match — however, one show in particular sticks out as his favorite.
"I think 17, WrestleMania is the favorite because of the venue," Ross said on "Ad Free Shows." "That was a special event because I had been in that arena time and time again in my mind or on television. So, to see it full and set a record, attendance record, considering all the events that had been held in that venue ... 17 is a special one." The thought that WrestleMania 17 is the greatest in WWE history is not an uncommon thought — as it saw multiple iconic moments and matches take place, including Steve Austin making a deal with the devil and siding with Vince McMahon, the extreme TLC II match between the Hardys, the Dudleys, and Edge and Christian, and Shane McMahon defeating his father in a Street Fight.
While WrestleMania 17 received much praise, Ross also discussed a later show that he greatly enjoyed. "I liked WrestleMania 25 because I got to call [Under]Taker and [Shawn] Michaels and that was an amazing, amazing outing." Michaels and Undertaker wrestled for over 30 minutes at WrestleMania 25, with Michaels attempting to end the 15-0 streak of "The Deadman." However, Michaels would come up short, and Undertaker's streak would continue for five more years.
If you use any quotes from this article, please credit "Ad Free Shows" with an h/t to Wrestling INC. for the transcription.