Ricochet Rationalizes Being The Forgotten Part Of Logan Paul's Royal Rumble Moment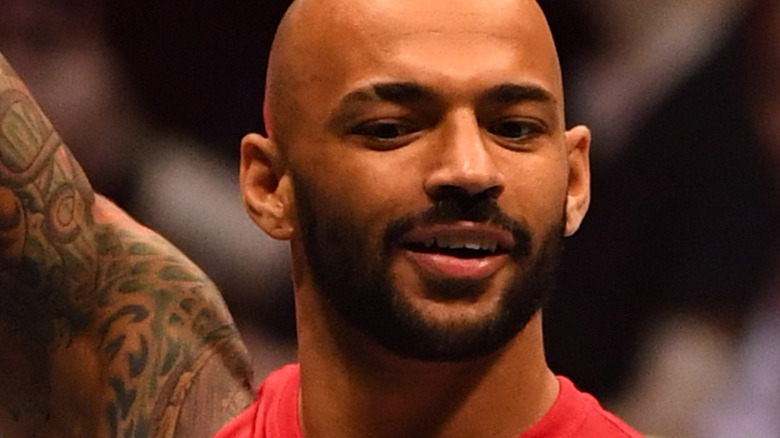 WWE
WWE superstar Ricochet was recently interviewed by Chris Van Vliet, and he discussed his famous Royal Rumble 2023 clothesline spot with Logan Paul. Despite stealing the show with the YouTube superstar, Ricochet has arguably been overlooked since then, while Paul became part of a high-profile feud with Seth Rollins. However, Ricochet understands why Paul has captured most of the attention since the Royal Rumble.
Ricochet compared himself to LeBron James, who entered the National Basketball Association as a prodigy. During his early years, James was regarded as the best athlete in the league by most fans, but now that his career is winding down, they don't appreciate his efforts as much — despite the fact he still performs well on the basketball court. As a veteran of the wrestling business, Ricochet realizes that it's easy to overlook him when a new hotshot enters the league.
"I think, once you go so long, and you do good stuff or, like, you do good things for so long — like, I've had good matches for so long that people just expect me to have good matches... When you're in the Royal Rumble and you're doing a crazy spot, and Ricochet does something crazy, it's like, 'oh.'"
Ricochet then discussed how the spot was laid out beforehand. According to the WWE superstar, he told Paul not to worry about leaping up for their clothesline duel at the same time. Instead, he encouraged Paul to do it in his own time, and he'd meet him in the air accordingly. Needless to say, it all worked out in the end, as the spot was the talk of the wrestling world after the event.
If you use any quotes from this article, please credit Chris Van Vliet with an h/t to Wrestling INC. for the subscription.