Kurt Angle Explains Why He Ultimately Made His Way Back To WWE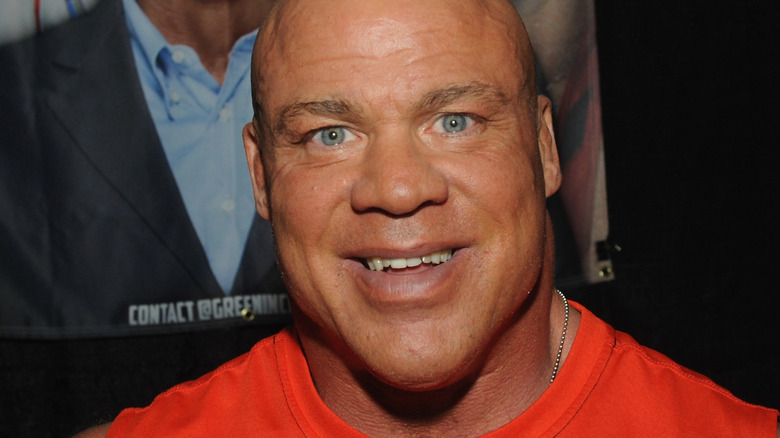 Bobby Bank/Getty Images
WWE legend Kurt Angle has detailed the reasons why he made the decision to leave TNA/Impact Wrestling in 2016 and chose to return to WWE the following year.
Angle, on his "The Kurt Angle Show" podcast, explained that he felt that it was the right time for him to leave TNA and join WWE, stating that he wanted to return to WWE for the fans.
"I wanted to return to WWE just because of the fans. I wanted to show my appreciation for them being hardcore fans while I was in WWE and when I crossed over to TNA, and then I wanted to come to WWE to finish my career. That was my goal, that's what I did," said Angle.
He said that every time his contract ran out, TNA had a new contract lined up for him to sign. The Hall of Famer stated that he was making seven figures a year in TNA/Impact when most of his peers made around $100,000. But, Angle had an inkling that TNA may not be able to pay the money he was earning for much longer due to their financial struggles.
The Hall of Famer said that he loved every aspect of TNA — taping shows, the house shows, the pay, and the wrestlers — but he knew that the company was almost "at the end of the rope" financially which is why he chose to leave. Angle further said that WWE was initially not interested in signing him, with Vince McMahon reportedly saying that he had a bad reputation due to his multiple DUIs and alcohol and substance issues.
WWE eventually came calling and he was inducted into the Hall of Fame in 2017, followed by a stint as "WWE Raw" General Manager, and later retired from in-ring action in 2019.