Road Dogg Admits WWE Dropped The Ball On Several Specific Superstars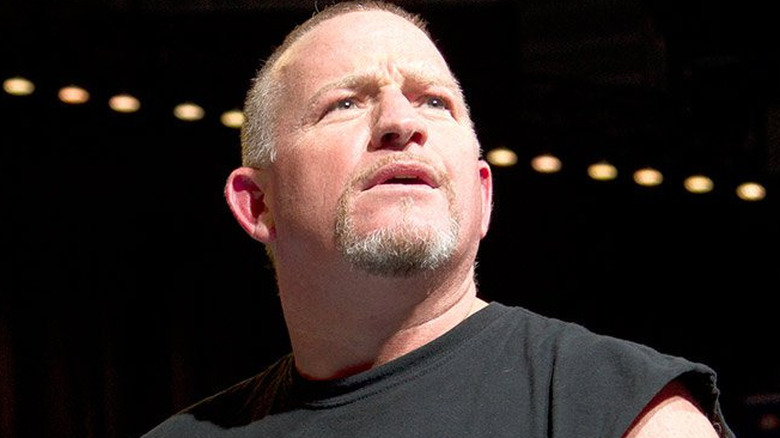 WWE
Wrestling fans are never going to agree with every direction a superstar, wrestler, and performer takes. On specific occasions, though, some missteps are going to stand out more than others regardless of who's in charge. This week on "Oh You Didn't Know," WWE Senior Vice President of Live Events Brian "Road Dogg" James recounted WrestleMania 34, and admitted that there were at least a couple of former superstars they could've done better by. Specifically, Aiden English and Rusev.
"Great dude. Great body, great wrestler, great voice. Couldn't pick a nicer guy," James said of English. "And I don't know. I will say I missed the ball with him." That night, English kicked off WrestleMania as a participant in the Andre the Giant Battle Royal. Fans were vocally upset when he was eliminated, and afterwards, English shaved his head before reappearing alongside Rusev for his Fatal Four-Way match against Randy Orton, Bobby Roode, and Jinder Mahal for the United States Championship. He also became a staple of Rusev's act for a spell, belting out "Rusev Day" on various occasions. That brings to mind the question James was asked later on — Was Roode or Rusev the bigger ball-drop in WWE?
"I think Rusev," James stated. "[But] I think Bobby Roode is a great hand, Bobby Roode doesn't get used enough right now." While "Rusev Day" did take off in spurts, James believes there was more there that they could've tapped into after initially setting it up and ultimately paying it off. "I think Rusev and Aiden English, there was something there with Rusev Day, we saw that," he continued. "We felt it. We set it up ... We made Rusev Day from a creative standpoint ... but yeah, we dropped the ball with Rusev."
If you use any quotes from this article, please credit "Oh You Didn't Know" with a h/t to Wrestling Inc. for the transcription.