The Miz Is No Longer A Snoop Dogg Fan After Being Forced Into Three WrestleMania Matches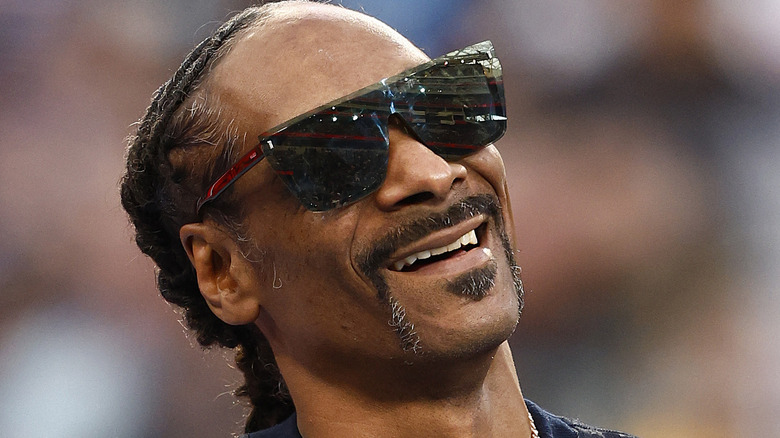 Ronald Martinez/Getty Images
The Miz is still reeling from the betrayal of his WrestleMania co-host Snoop Dogg; a betrayal that cuts deep into the once-proud fan. "I'll never listen to another Snoop Dogg album ever again," Miz said on "ESPN's Kyle Brandt's Basement" show. "Doggystyle was one of my first CDs that I bought in high school, and now I can't even hear his voice anymore." 
Miz is furious over Snoop putting the former WWE Champion in "three impromptu matches" at WrestleMania 39, which saw Miz face Pat McAfee, Shane McMahon, and finally the rap icon himself. "No one's ever wrestled three matches at WrestleMania and I did that this year," Miz exclaimed, "so I guess I broke a record." It should be noted that, even if one were to consider Miz' encounters with McMahon and Snoop Dogg as separate matches, rather than Snoop Dogg filling in for an injured McMahon, Miz didn't even tie the record for most matches wrestled at a single WrestleMania — "Macho Man" Randy Savage wrestled four matches at WrestleMania IV in 1988.
McAfee's win over Miz came with help from San Francisco 49er George Kittle, which Miz took personally, saying he will never draft Kittle in fantasy sports ever again. "I don't care if he's the last tight end, Kyle. I will choose a quarterback, I will choose a running back, I will leave a tight end blank. I don't want to ever hear George Kittle's name." Miz also says he's refusing to listen to McAfee's show, of which he used to be a fan.
"I'm not drinking gin and juice," Miz complained. "I will no longer doggystyle anymore, apologies to my wife." So frustrated is the "Miz & Mrs." star and former Intercontinental Champion, that he's found himself mad at his own pets. "I can't even look at my dog!"