Ric Flair Reportedly Went Off-Script While Inducting The Great Muta Into The WWE Hall Of Fame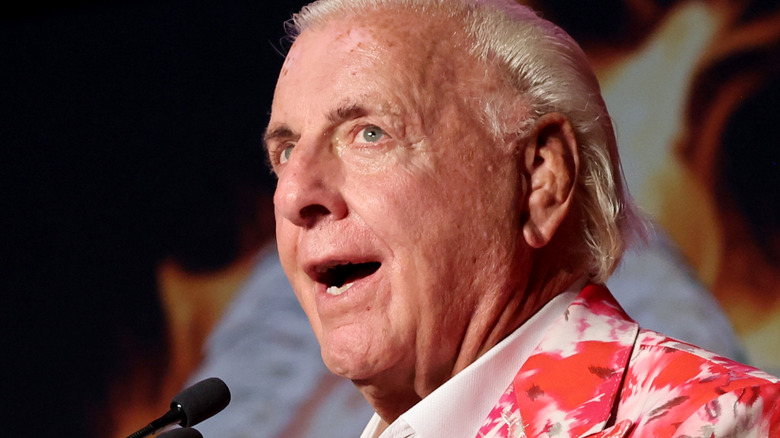 Jason Kempin/Getty Images
WWE held their 2023 Hall of Fame induction ceremony at the Crypto.com Arena in Los Angeles following last week's "WWE SmackDown." The event streamed on Peacock with a total of five inductees sharing the spotlight. Almost everything seemingly went off without a hitch, although one particular inductor apparently went off-script for a majority of his speech.
Dave Meltzer reported in the latest Wrestling Observer Newsletter that each speech was planned, approved, and written out on a teleprompter, however "The Nature Boy" did not stick to his script until the very end while inducting The Great Muta. Rather, Flair went off on several tangents to put over other Japanese talent and their style of wrestling. The two-time Hall of Famer also put over The Steiner Brothers, who were shown in the crowd before it was made public that Rick Steiner made derogatory comments to Gisele Shaw earlier that day.
While actually discussing Muta, Flair did hail him as "the best Japanese wrestler ever," however that is also what he said about Tatsumi Fujinami when he delivered his inductor speech in 2015. In addition to discussing Fujinami, Flair's stories about Riki Choshu and Tenryu were reportedly part of the scripted speech that he stuck to.
Muta, who recently retired at the age of 60, went on to have one of the shortest speeches of the night. Nevertheless, he was in good company throughout the evening as Mick Foley and Torrie Wilson teamed up to induct Stacy Keibler, while Konnan made a rare appearance to induct Rey Mysterio as this year's headliner.