UFC Fighters Alex Volkanovski And Robert Whittaker Impersonate WWE Hall Of Famers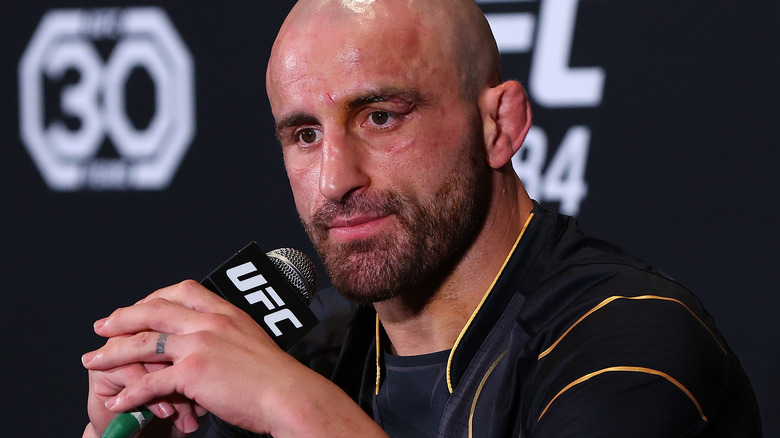 Paul Kane/Getty Images
The UFC-WWE merger is the talk of the wrestling world and the combat sports world.
During the pre-fight festivities before UFC 287 in Miami, FL, UFC fighters Alexander Volkanovski and Robert Whittaker appeared on UFC Fight Week, with Volkanovski dressed as "Stone Cold" Steve Austin and Whittaker dressed as Hulk Hogan. What started as a conversation about UFC parent company Endeavor's purchase of WWE, and the merger of the two companies, devolved into Volkanovski and Whittaker spewing the catchphrases of the pair of WWE Hall of Famers they were impersonating and flipping the middle finger to the camera, much to the delight of the Fight Week host.
Endeavor and WWE announced the sale on April 3, just hours after WrestleMania 39. UFC and WWE are currently a newly combined company, called NewCo until an official name can be finalized. Dana White spoke about the deal after UFC 287, saying that he believes that Endeavor CEO Ari Emanuel is the perfect ally for WWE as they negotiate media rights fees in 2024. White also clarified that WWE and UFC will be run as separate companies despite the merger. 
"They're gonna do what they do. We're gonna do what we do," White said.
Endeavor and WWE are set to close the deal, which will see Endeavor take a majority stake as well as a majority on the WWE board of directors, in the second half of 2023. Emanuel reportedly asked for formerly ousted WWE Chairman Vince McMahon to come back and oversee the company.