Logan Paul: 'I Feel Incredibly Blessed To Have Found Something That I'm Good At'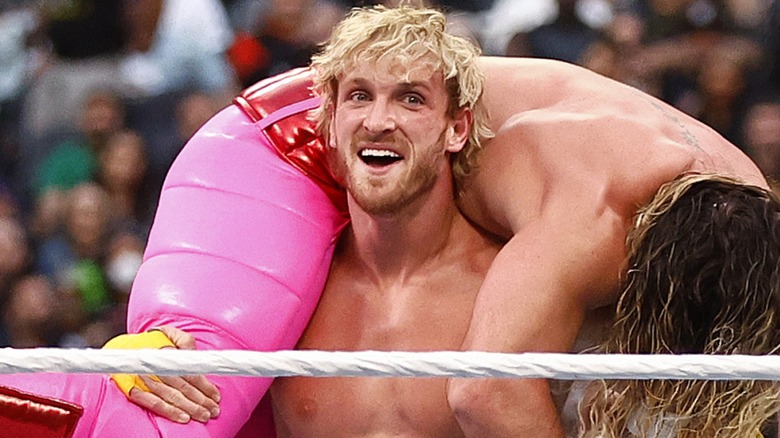 Ronald Martinez/Getty Images
Like him or not, Logan Paul immediately turned a lot of heads once he stepped foot inside a WWE ring. Over the course of his short career, the divisive social media star has left fans –- and those around the industry –- surprised by his skills and talents. And in a new interview with ESPN, the 28-year-old opened up about his own satisfaction with how he's performed since debuted at WrestleMania 38.
"I feel incredibly blessed to have found something that I'm good at, at 28 years old," Paul shared. "And the fact that the organization believes I'm good enough to continue hopefully building this WWE legacy is mind-blowing. And I'm incredibly grateful and incredibly blessed. And as long as I can keep putting on good shows, man, I'm gonna keep doing this sport."
Paul confirmed this week that he had signed a new multi-year deal with WWE. And according to WWE's Chief Content Officer Paul "Triple H" Levesque, it wasn't just Paul's popularity on social media that drew the company's interest, but also what he's been able to do inside the ring.
"Logan has just been a game-changer," Levesque said. "I mean, he's probably the most natural guy I have ever seen. It's almost like he was made for this business ... Just being natural as far as talking and being on camera ... he's so good at that. And then his athleticism is just next level," he added. "He's exactly the kind of guy that I look for as a WWE superstar. Whether he was an influencer or not, he'd be the kind of guy I'd look for as a superstar."