Renee Paquette Bothered That WWE Doesn't Set Up Fresh Commentators For Success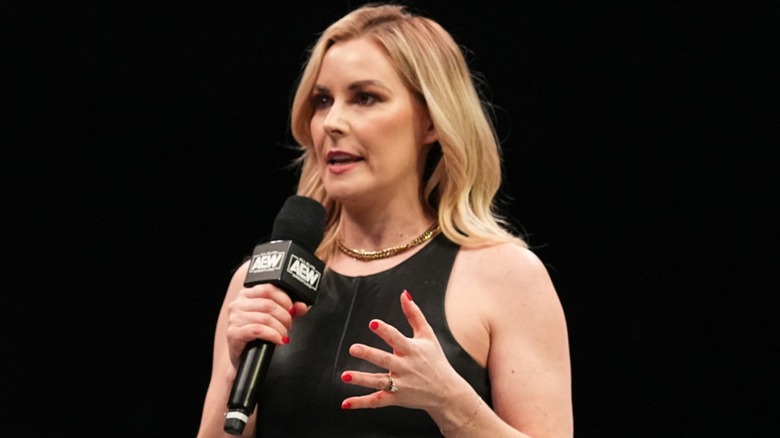 AEW
Professional wrestling commentary isn't always as simple as the pros make it look. Someone who can speak to that is current AEW on-screen personality Renee Paquette. She spent nearly a decade with WWE in a variety of roles, including "WWE Raw" commentator for a short stretch. Appearing on "Insight with Chris Van Vliet," she talked about her experience in the booth then while lamenting how poorly WWE goes about establishing new announcers, leading to several shake-ups over the years.
"It's not that there's not enough respect put on what commentary needs and to be good at commentary, they do understand that," she stated. "But a lot of times they're like, 'Okay well, put Renee on, she'll be good! She's good in these other things, let's put her on commentary.' I was not ready to do commentary."
Paquette pointed to Adnan Virk, who she called a "fantastic broadcaster." Still, he wasn't well-versed in professional wrestling and his WWE run lasted all of six weeks. While he had plenty of previous broadcast experience, he was now being tasked with "Raw" play-by-play duty which is simply not the same. "It's really just not setting people up for success," she added, noting that "the game completely changes" when Vince McMahon's voice is constantly in your headset. It was something he became notorious for with "Raw" and "WWE SmackDown" as opposed to "WWE NXT" where announcers were developed without such a constant element.
One person who arguably bucked that trend was Pat McAfee, with Paquette admitting "It takes a really long time to become a great wrestling commentator ... I mean Pat McAfee is such an anomaly ... he's just a huge personality." And she also holds WWE staple Michael Cole in such high regard. "Michael Cole has been doing commentary for what? Like 20 years or something? And I think now he finally does get the credit," she added. "...He's so great and he's got such thick skin. I assure you it does not rattle him when people wanna talk a little s***."
If you use any quotes from this article, please credit "Insight" with a h/t to Wrestling Inc. for the transcription.