Jake Roberts Reflects On The Passing Of Former WWE Star Bushwhacker Butch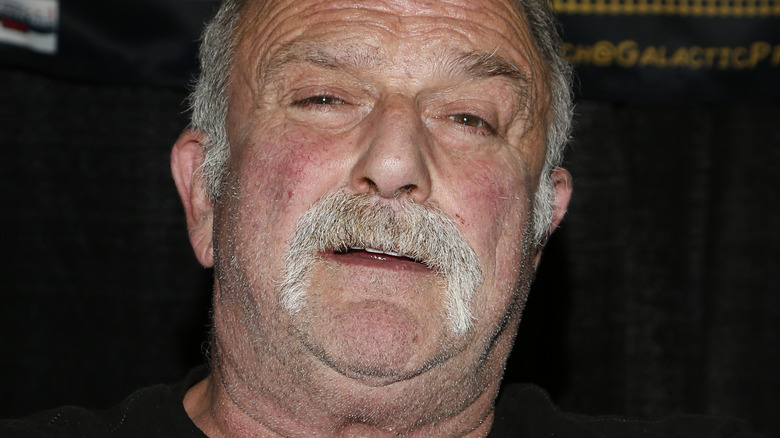 Gabe Ginsberg/Getty Images
Bushwhacker Butch – real name Robert Miller - passed away earlier this month after being hospitalized in Los Angeles, California. The WWE Hall of Famer, who was a part of the legendary Bushwhackers tag team with Bushwhacker Luke, had traveled from New Zealand to appear at WrestleCon during WrestleMania 39 week. Jake "The Snake" Roberts recently opened up about Butch's passing on the "The Snake Pit" podcast.
"It broke my heart, man," Roberts said. "To know that he was coming out there to see the fans, you know, basically one last time or whatever, and to go down like that, man, it's just horrifying. You know I'm angry at myself because I'd heard he had went to the hospital and I didn't go see him ... He was a great man, a great talent, and one of the toughest son of a b*****s I ever met."
Roberts and Butch crossed paths numerous times between the late 1980s and early 1990s in WWE. They both entered the 30-man Royal Rumble match in 1989 and participated in the annual over-the-top-rope elimination bout again two years later. Roberts and Butch successfully teamed up with Luke before a taping of "WWE Superstars" in the summer of 1991, defeating The Mountie and The Natural Disasters' Earthquake and Typhoon via disqualification. The last time they both featured in the same match was on a WWE house show in Anaheim, California on March 14, 1992, where they took part in an 18-man battle royal won by "Macho Man" Randy Savage. 
If you use any quotes from this article, please credit "The Snake Pit" with a H/T to Wrestling Inc. for the transcription.