Oscar De La Hoya Would Have Gone To WWE, Says He Could Have Knocked Out Steve Austin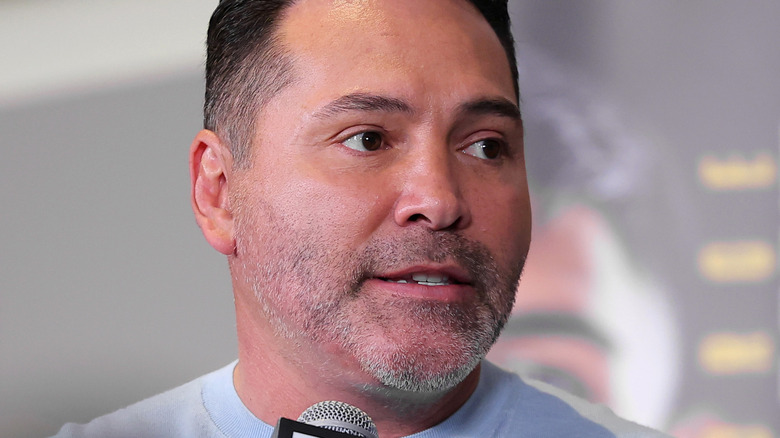 Cris Esqueda/golden Boy/Getty Images
Oscar De La Hoya is one of the most famous names in the world of boxing, in a new interview with Bally Sports, De La Hoya was asked about the possibility of stepping into a WWE ring, especially in his heyday of the late 1990s.
"It was never put in front of me but I would've done it. Why not?" De La Hoya said. "Knock out 'Stone Cold' Steve Austin? That would've been fun."
According to De La Hoya, he didn't just grow up a fan of professional wrestling but remains a fan to this day.
"I'm a huge fan of any combat sport," De La Hoya said, noting that he not only enjoys WWE, but UFC as well. "Yeah, anything combat, I'm all for it. It's in my blood."
De La Hoya says that he feels a certain kinship with all athletes.
"I respect every athlete [that] steps in whether it's an octagon or a squared circle."
De La Hoya's respect for the UFC comes despite once challenging UFC president Dana White to a fight in 2018, asking for a three-round exhibition fight against the fighting impresario. De La Hoya's love of combat is likely invigorated by the fact that WWE and UFC will operate under the same corporate umbrella, as they are set to be merged into a new company under UFC parent company Endeavor in a $21 billion deal that was made public during the weekend of WrestleMania 39 at the beginning of the month.
If you use any of the quotes in this article, please credit Bally Sports with an h/t to Wrestling Inc. for the transcription.