Tony Chimel Recalls The Scene Backstage In WWE When Owen Hart Passed Away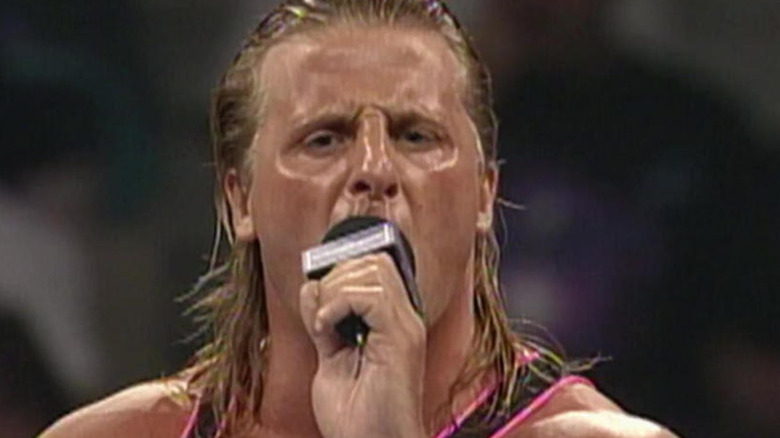 WWE
One of the saddest moments in professional wrestling occurred in May 1999 at WWE's Over the Edge pay-per-view. That event, of course, is primarily remembered for the tragic passing of Owen Hart, who was set to challenge The Godfather for the Intercontinental Championship that night. 
As Hart descended from the rafters on a harness, the equipment malfunctioned, causing Hart to plummet to his death. In a recent episode of "Monday Mailbag with Mike Chioda," former WWE ring announcer Tony Chimel recalled the backstage shock in the moments following Hart's fall. He noted that he was not announcing that particular pay-per-view, but was standing in Gorilla position. 
"I don't know if I was taking jackets or maybe I was just out back there hanging out, but that's where I was when it happened," Chimel said. "And I just remember Jerry Lawler coming back and saying, 'Guys, I think he's dead, for serious.' We were all like, 'Oh my God, what happened?' Then, we're all just waiting and stuff, and then I saw when they wheeled him back and stuff, and [Owen] just looked purple to me. And it was such a sad, sad moment."
Chimel continued on to mention that Tim Rodgers was sweeping the ring with a broom at that time, while former WWE referee Jimmy Korderas was also clearing the ring of debris from a hardcore match that happened just before Hart's scheduled match against The Godfather. As Hart fell from the rafters, he landed a few inches away from both men. 
After receiving swift instruction from Bruce Prichard, WWE referee Mike Chioda quickly rushed down to the ring to inspect the situation. Despite everyone's best efforts to revive him, Hart was pronounced dead at a local hospital.