Kimber Lee Opens Up About Incident That Cost Ex-Husband Nash Carter His WWE Job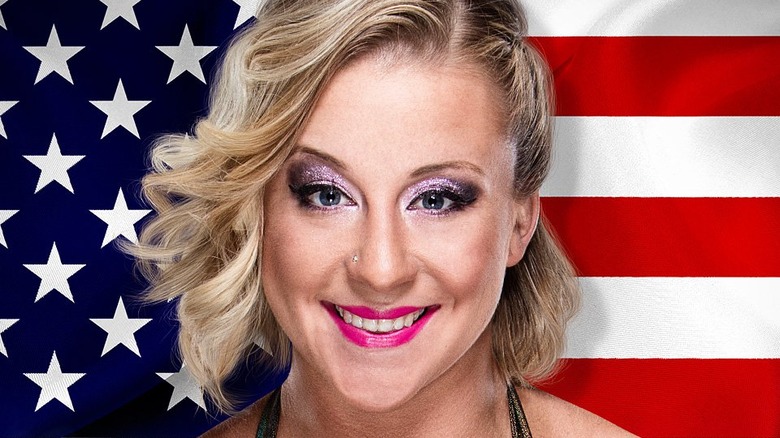 WWE
Last year, former Impact Wrestling and WWE performer Kimber Lee made headlines when she accused her estranged husband Zachary Wentz (then Nash Carter in WWE) of being abusive, and also tweeted a photograph of him doing a Nazi salute while sporting a Hitler mustache. This led to his WWE release, while the former couple navigated a divorce. On Thursday, Lee opened up about the whole situation for the first time in an interview with podcast host Piers Austin, expressing some regrets along the way and examining how her overall mental health played a role in what happened.
"At the time when all this was happening, I had just gotten out of being in a behavioral hospital that I had taken myself to," she explained. "I stayed there for ten days." One factor that she cited for the decline in her mental health, beyond her ongoing struggles with alcoholism and bipolar disorder, was the September 2021 suicide of Shannon "Daffney" Spruill.
"I had just lost Daffney. Right before Daffney I had lost one of my really close family friends. And then all the stuff that was going on with my marriage, knowing that I am getting cheated on but getting told that's not what's happening. It was just a lot of things all at once. I did my time in the hospital with no support. I'm not gonna go into details, but I did not have support where I should have at the time."
Kimber Lee: 'We both did horrible things to each other'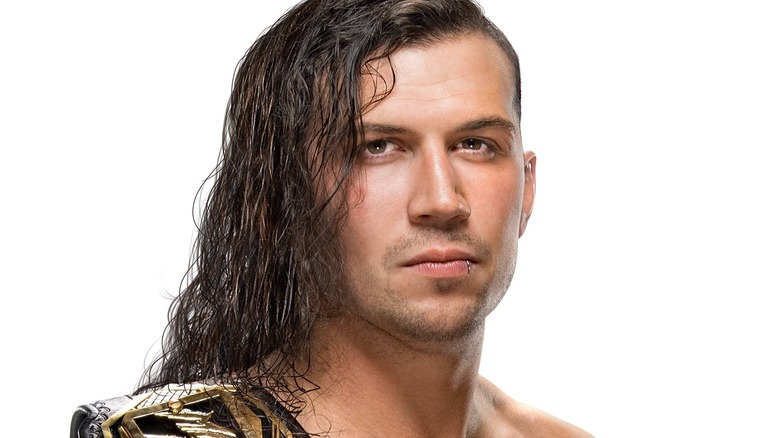 WWE
When Lee was discharged — which she places as the week she was served with divorce papers — she says she was taken home by "the only person who could legally pick me up at the time," which would presumably be her husband but is never specifically stated to be. "[He] had signed a suicide plan because I was suicidal at the time, dropped me off at home and left me," she added. "And then I was by myself again when I got out. So I wasn't very mentally stable at the time when all of that happened."
She adds that throughout WrestleMania weekend, her husband was telling her they'd work things out, only to serve her with divorce papers when they got back to Orlando. "No, I wasn't in a good place, and that's part of why things came out the way they did, and I'm not proud of it, but at this point, I've moved on." Asked about the degree of negativity she got on social media last year, she says that she got numerous death threats, including at her day job. "All because people think they know somebody," she noted. "And they have no idea."
As for her husband's WWE firing, she appears  to have some regrets. "Were the consequences he had to face because of some of the stuff I did pretty sh**ty?" she asked rhetorically. "Yeah. Again, like I said, I should have behaved differently, I fully admit that. We both did horrible things to each other within that relationship. I fully admit that, too. But I can't Photoshop what was there; it did happen, it is what it is, and we have to live with it."
Kimber Lee: 'It's been refreshing to only do the things that are fun'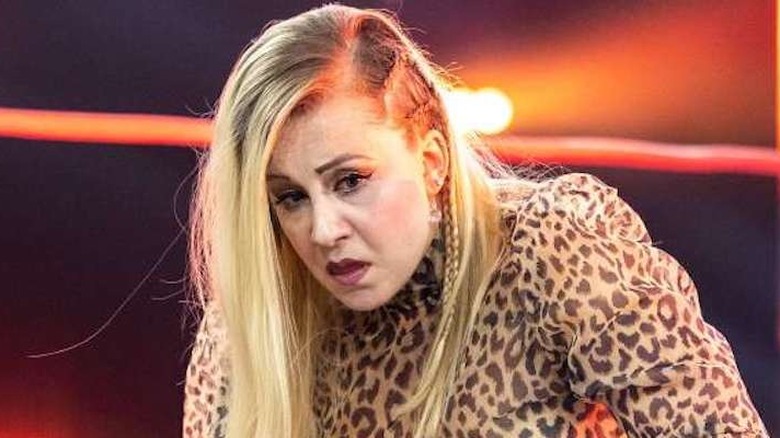 Impact Wrestling
After explaining that she's in a good place now, Lee was asked if she and her ex-husband have communicated since he filed for divorce. "F**k. No," she replied, laughing. "Other than through lawyers, f**k no." She added that while she wouldn't "willingly" put herself into a situation where they had to be around each other, she can be professional if they were booked on the same show.
"I don't care," she said. "That doesn't bother me. We can work for the same companies. Whatever. I can do my job. I hope he would be man enough to do his, too." She thinks some promotions would be hesitant to book them on the same card, but she's also not looking to wrestle every weekend anymore. "It's been refreshing to take a step back and take a break for a little while and only do the things that are fun," she added. "As opposed to the mental hell I've put myself through for so many years."
Lee has not wrestled since an October 2022 FEST Wrestling card in Florida, where she defeated Edith Surreal, one of just a handful of matches she had last year. She had been much more active in 2021, working regularly for Impact on a per-appearance contract, and taking independent bookings for promotions such as SHIMMER and Beyond Wrestling. She was last seen on television at the end of 2021, when she and Brandi Lauren were written off Impact as a consequence of the real life pregnancy of Su Yung, whose storyline they were intertwined with at the time.