Steve Austin Discusses Meteoric Rise In Exclusive Clip Of Stone Cold Takes On America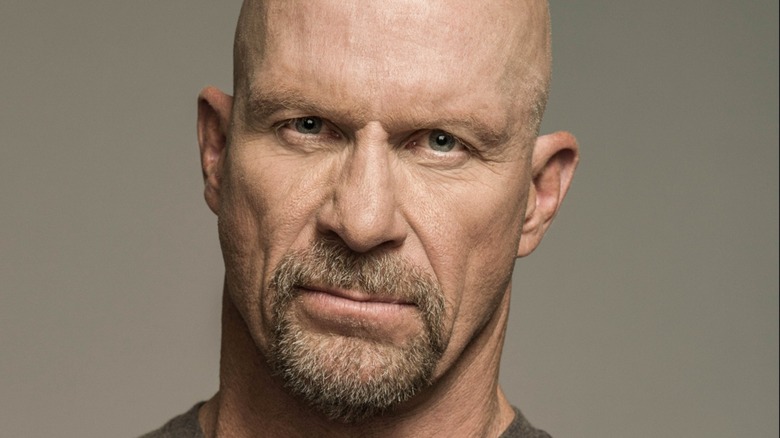 A&E 2023
WWE legend "Stone Cold" Steve Austin is back on the scene with his latest venture — "Stone Cold Takes On America." The A&E series will follow the WWE Hall of Famer as he travels across the United States in an RV, taking on fan challenges that push his boundaries in an attempt to make up for lost time on the various things he missed out on while laser-focused on his professional wrestling career as it hit its peak. Ahead of the show's premiere this Sunday, Wrestling Inc. has an exclusive clip from it, in which Austin talks about how things really took off for him in WWE.
Starting in June 1996 with his legendary "Austin 3:16" promo at that year's King Of The Ring pay-per-view — the moment Austin declares he became a household name — we get a look at a greatest hits package of peak "Stone Cold" moments. Layered over match footage of him in the ring with a who's who of opponents — The Undertaker, Shawn Michaels Bret Hart, Brian Pillman, The Rock, Kurt Angle, and others — Austin shares that "once I got on top, man, I wasn't going to do anything that was going to derail myself." As a result, he found himself working hurt and sick, being the first guy in and last guy out of the building, and doing whatever it took in order to keep his momentum going. 
Austin further shares his excitement at the fans who were living vicariously through him and his storylines, citing his hospital room ambush of Mr. McMahon, his beer truck entrance, and his cement-based destruction of McMahon's Corvette as prime examples. However, he also is aware of the sacrifices he had to make along the way as his work consumed him.
Fans interested in seeing what Austin is up to these days can check out "Stone Cold Takes On America" when it premieres this Sunday, April 30 at 10 pm ET/9 pm CT on A&E.