Steve Austin Says He's Had People Cuss Him Out About Inventing The 'What' Chant In WWE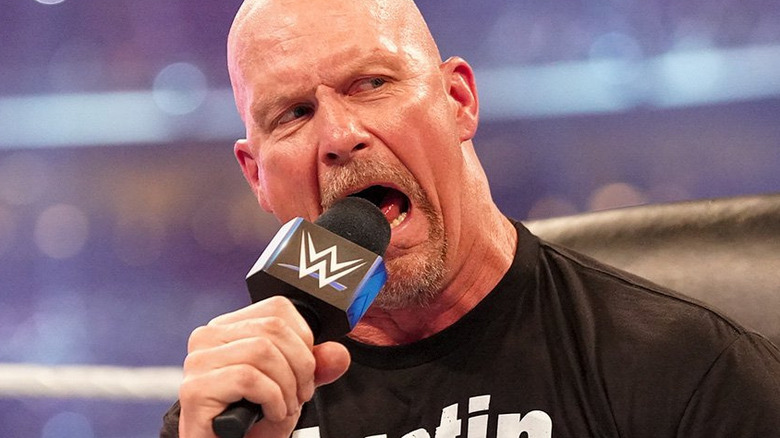 WWE
"Stone Cold" Steve Austin may always be remembered for fronting WWE's beloved "Attitude Era," but there's one thing he created that still upsets many across the industry. Opening up about his career on "Insight with Chris Van Vliet," the WWE Hall of Famer said he still comes across old wrestling acquaintances who "cuss me out" for inventing the "WHAT?" chant in 2001. This simple crowd response after a wrestler takes a pause during a promo has become one of the most common, and irritating, chants in the business today. Austin, who retired from full-time action in 2003, told Van Vliet it surprises him the chant is still used so commonly two decades later.
"It really does," Austin said. "But I mean, it's a testament to how impacted people were to that. That started off as me leaving a voice message on Christian's phone. I was working heel at the time and I say, hey man, this is a really good way to F with people and get under their skin. Because if you tell me something, I just say, 'What?' and I throw it back at you, it's irritating and that's the way it was designed to be. And then I turned it into something that worked for me as a babyface as far as your way to mock a situation."
Austin said "with cadence and delivery, people can't escape it" while they're doing a promo. "It's flattering to see that it's still around, but I've had so many people cuss me out about inventing it," he laughed. "We even ended up putting it on a t-shirt for god's sake and it sold a ton, so I'm thankful for the word. But if it disappeared tomorrow, I wouldn't complain."
​​If you use any quotes from this article, please credit "Insight with Chris Van Vliet" with a h/t to Wrestling Inc. for the transcription.