Nick Aldis Wants To Face PCO, Eddie Edwards, And More In Impact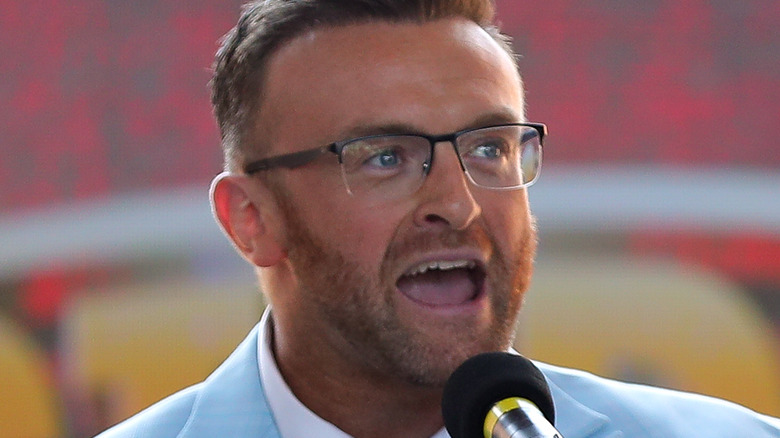 Omar Vega/Getty Images
Nick Aldis is back in Impact Wrestling, and he already has a shortlist of competitors he wants to stand across the ring against. During a recent appearance on the "Battleground Podcast," Aldis explained who he wants to face.
"There's a few guys who I've sort of flirted with in the past in different promotions and never got a chance to mix it up with," Aldis said. "Before the pandemic, I was slated to face PCO at Ring of Honor and then that didn't happen, so that one's always been in the back of my mind." Aldis explained that he always likes having a clash of styles and personalities in the ring, and there's probably no greater contrast than with PCO.
Aldis continued, "Eddie Edwards is another. Ace Austin is a guy who I've watched from afar and go, 'That kid is crazy talented how athletic [he is],' and I would really enjoy telling that story with him. I'm so happy to see the Motor City Machine Guns sort of back regularly and cooking with gas in the tag division."
The former TNA World Champion explained that he would love to find a partner to take on Alex Shelley and Chris Sabin, or to take them on individually. He praised Shelley as "one of the most talented" wrestlers in the world and for being one of the most "unselfish" people in the industry as his fingerprints can be seen all over, whether he trained someone or inspired someone to model after his moveset. Ultimately, Aldis concluded that the current Impact roster is "stacked" and that he's excited to mix it up with a number of people.
If you use any quotes from this article, please credit "Battleground Podcast" with a h/t to Wrestling Inc. for the transcription.