Booker T Explains Why He Turned Down Membership In Original WCW NWO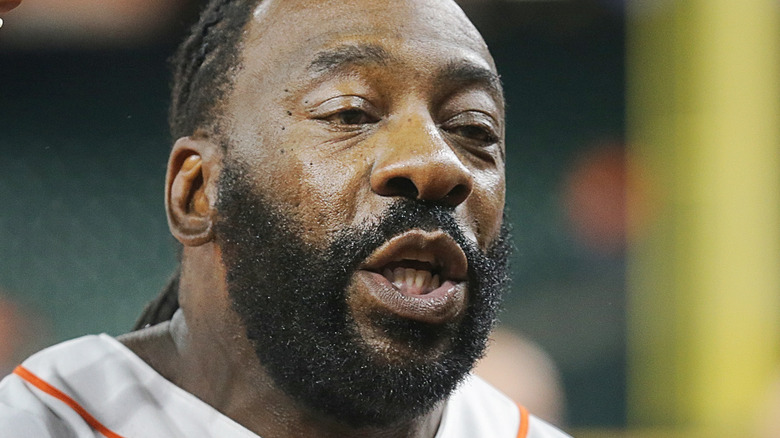 Bob Levey/Getty Images
Booker T is convinced that he wouldn't have been a world champion during his illustrious career had he become a member of the original New World Order in WCW. Speaking on "The Hall of Fame" podcast, Booker reiterated his earlier comments that he would have been viewed as nothing more than "a bump guy" for the NWO and wouldn't have realized his full potential as a singles wrestler. Booker prefaced his comments by referring to himself as "the only man to have turned down the membership" of joining NWO.
"I don't think I would have ever been a world champion [had I joined the NWO]," Booker stressed. "I wouldn't have achieved that status if I was part of that group. I thought being a solo act was my route to get to the next level, going out and performing at the highest level and being more focused than anything."
While a part of Booker still wonders "what could have been," he believes he made the right decision by declining a spot in the iconic faction.
Perils Of Joining The NWO
"One of the things about that NWO crew ... you could lose your focus real quick," Booker said. "Those guys were throwing some hella parties, man. They were partying big time. Sometimes, once you get into that whirlwind, you can't get out until it stops. For a lot of those guys, it was destructive. It really was, to be a part of that group."
Earlier in the podcast, Booker flat-out disregarded his brief stint as a member of WWE's version of the NWO.
"That wasn't really NWO. That was something totally different," Booker acknowledged. "I'm talking about when these guys were taking over the business and running roughshod. I literally could have been part of all that mayhem, but I chose to go my route."
Booker responded to recent comments by Kevin Nash, who confirmed that the original NWO offered him a spot in the stable.
If you use any of the quotes in this article, please credit "The Hall of Fame" with an h/t to Wrestling Inc. for the transcription.