Thunder Rosa Says Former WWE Star Chyna Challenged Gender Roles, 'Was Done Dirty'
Gabe Ginsberg/Getty Images
Thunder Rosa believes the late Chyna "was done dirty" in the public eye and did not deserve the backlash she received for her foray into the adult entertainment industry.
Discussing the sensitive matter on the "Busted Open Radio" podcast, Rosa brought up the fact that several active wrestlers were monetizing off of selling adult content, implying that Chyna's post-wrestling career could have turned out differently in the current era. 
"She decided to go on another route after pro wrestling," Rosa said. "She was chastized for that. And now, a lot of people are utilizing platforms such as OnlyFans. Now, it is not widely accepted, but a lot more accepted than before."
Earlier in the interview, the AEW star heaped praise on Chyna for challenging time-honored gender norms in a pro wrestling program. 
"She broke barriers in a lot of things such as gender and what gender roles were — she was so strong and beat up guys," Rosa explained. "Nobody ever said, 'Oh, she's a woman. She can't do that.' It was really awesome that gender roles were challenged for the first time on national TV."
Rosa, a teenager during Chyna's peak WWE run, was equally awe-struck by Joan Laurer's ability to adapt to a male-dominated sport. 
'The epitomy of what a badass b---h is'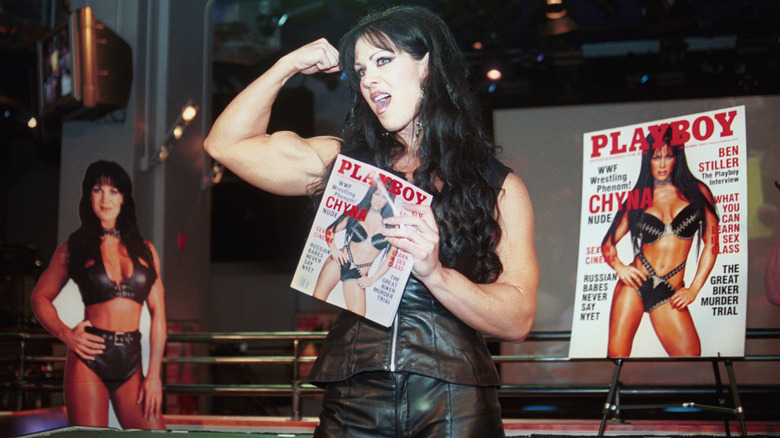 Spencer Platt/Getty Images
On that note, Rosa acknowledged that Chyna, a bodybuilder, had to work extra hard to stand out on a television program promoting superficialities.
"Some of her features were not feminine per se," Rosa stressed. "Sometimes, bodybuilders take certain things that make their faces, voice, and even body completely change. She had to adapt to that — in order to become the superstar that she became. For a lot of women, she's like the epitome of what a badass b—h is, and who you want to become — because she was strong, beautiful, and beating up both guys' assess and women's too."
Rosa added, "It's sad because I think they did her dirty — big time. Her demise was very, very sad."
Speaking further on Chyna's tragic 2016 passing, Rosa revealed she has watched several documentaries detailing the final few days of Chyna's life and her struggles with substance abuse, and has also spoken to people that traveled with Chyna during her years as a wrestler. Rosa believes Chyna's death has taught the wrestling world valuable lessons, some of which are more relevant than ever before. 
"We have learned that mental health is very important," Rosa admitted. "Also, it's important to support people like her, even if you [find their decisions to be questionable]."